Don't look for parts 1-3. They were not posted here however they are burned into my brain over the past few months.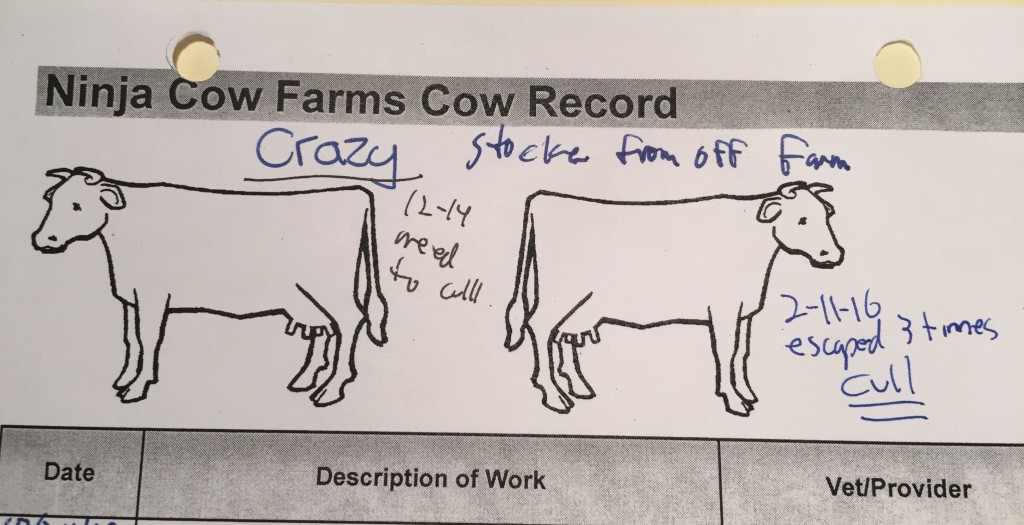 Here you can see the record on #42. This cow escaped our paddock, the one that all the other cows have used for years, not once, not twice, but three times over the past few months. He routinely destroyed something in the process prompting even more work than normal. Usually when he escaped, we weren't even after him but were simply working cattle as we normally do. However, crazy has its benefits as this cow never got worked, never got treated, and is wild and free.
Well he was free, now he's hanging in the cooler. It took us a good chunk of the morning and the help of five people, but #42 went into the trailer with little fuss.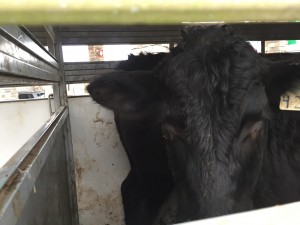 After he got on the trailer, well, things got loud. There was lots of banging and crashing and he was none too pleased to be on there. Just so he'd feel better about the trip, we loaded his crazy friend, LF501.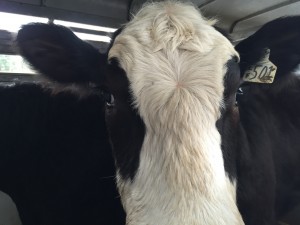 LF501 was also marked as crazy and needed to be culled. Although he'd been calming down lately and was only moderately crazy the past few months.
Both cows made the trip to Chaudhry's on Monday and #42 couldn't wait to get off the trailer. He jumped off and started causing a ruckus at the processor. However, this isn't their first rodeo. The walls at the processor are steel and two inch thick wood and go from floor to ceiling. There is nowhere to go and shortly we had him in a holding pen to calm down. I didn't stick around for anymore of the show, I headed back to the farm to meet some customers and do some work in the shop.
The rest of our cows are pretty calm and they are doing well overall. I was really happy to have this crazy cow on the trailer and off my farm as that means everyone who is here now is only moderately crazy or not crazy at all. We have a few culls left and then, sadly, you'll have to start eating not-crazy cows. For those of you that are used to the taste of crazy, I'm sorry.
As happy as I was to have #42 of the farm, I'll be even happier to have him in the freezer so we can be fully stocked again. We are scheduled to have all the meat back in the freezer on March 5th, plus I'm picking up pork tomorrow to restock on bacon and pork chops.