My family has only been in NC for 2 years. We moved here from Orlando, FL in March of 2014. I miss my friends, my family, and not much else except for food. Cuban food to be exact! While in Florida, Cuban food became a mainstay not only in my house but also for my clients. We all loved it.
My favorite Cuban Restaurant was The Columbia. When we left Florida our last meal was from there. My first trip back I grabbed their family cookbook & history. Every time we visit ¾ of the meals we eat come from there. Seriously it is great food.   My recipe today is based off of The Columbia's  Arroz Con Pollo which if you heard me pronounce it sounds nothing like how it should be pronounced. The difference is in the marinade.
The ingredients from the NCF store in this recipe are Chorizo $8.00lb & Chicken Leg Quarters $5.00 lb. In each pack of Chorizo is typically 4 links. The Chicken Leg Quarters are from Brittany Ridge Farm and are typically packaged 2 per pack.  The total cost for this family meal was a bit high at  around $22 for all for the ingredients.  I still have ingredients left over though for another meal down the road.
Arroz con Pollo
3 TBSP Extra Virgin Olive Oil (EVOO)

¼ cup White Wine Vinegar

1 TBSP Oregano

4 Cloves of Garlic minced

1 Red Onion chopped

2 Red Peppers julienned (sliced in thin vertical strips)

4 Chicken Quarters

2 Links of NCF Chorizo casing removed

4 Cups Chicken Broth

2 Cup Rice

1 Seeded Tomato Chopped

1 C frozen peas (optional)

Salt and Pepper to taste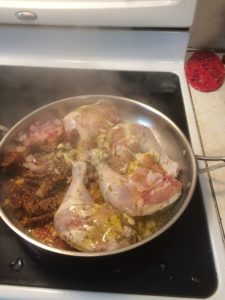 Combine EVOO, Vinegar, Oregano, Garlic & Chicken Quarters in a Ziplock bag. Mix well thoroughly coating chicken, then place in the refrigerator for 8-12 hours.

Removed marinated chicken from fridge 1 hour before cooking

Heat 6 quart lidded pan over med heat (I use my dutch oven). Add oil. 

Remove chicken from bag set aside, add marinade to pan

Salt & Pepper marinated Chicken

Once oil in pan is glistening place Chicken & marinade in hot pan

While chicken is cooking add the onions

Flip Chicken after it releases from pan(about 6-7 min) add Chorizo breaking it up

Cook Chorizo till browned, then add the broth, bring to a boil

Stir in rice, cover with lid, lower burner temp to low

Salt and Pepper broth

After 15 minutes add peppers, peas and return lid to the pan

When rice is tender about 5 minutes later remove from heat

Serve Chicken on rice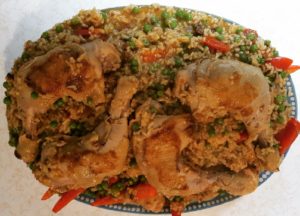 Note-I have served this dish with mushrooms. If using mushrooms add them when you add in the onions. While I love mushroom, there is one in my house that does not. (There's always one!)