Yesterday I made my weekly trip to the processor and to some of our other farmers to pick up goodies for the store. It was great to be back on my normal schedule after being gone for three weeks. I also dropped off three pigs at the processor, including Spider Pig who after his initial escapades, has been a good pig the rest of his time here.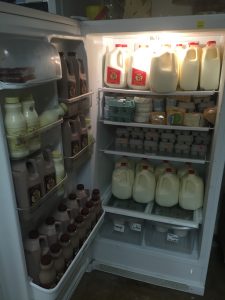 Being back on my normal schedule means that we are fully stocked on chicken, ice cream, chocolate milk, whole milk, heavy cream, breakfast sausage, and yes bacon. We also will be taking our next cow to the processor next week so we should be back in business on steaks. We do still have most of the cuts of beef in stock, including flat iron steaks, flank steaks, roasts, and hamburger.
We have plenty of availability this afternoon and most of the day tomorrow so schedule a visit to stop by, before it's 100 degrees on Sunday!