I just got back from the processor and we have bacon, snack sticks, and fresh BBQ in the freezer cooling down right now.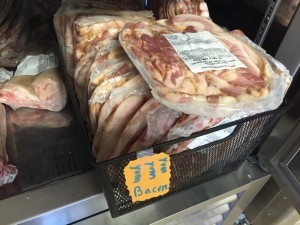 I also dropped off two hogs today to be picked up next week so even if we have a run on bacon (seems like it always happens), we should be restocked by mid next week. We are getting a little short on kielbasa and bratwurst so it was time to take a couple more hogs and get some sausage. We are well stocked on everything else and my chicken farmer is going to be here tomorrow to deliver a large order of chicken and dairy goodies, including more ice cream!
If you haven't booked your visit to come by and shop, now is the time.