It's back in stock.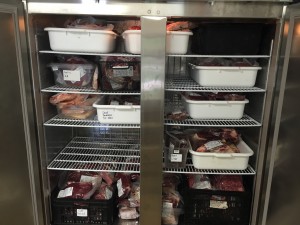 Along with pork, chicken, dairy. Pretty much everything, including some items I haven't even told you about yet (that's another post.)
This cow had a hot weight of 710 pounds! That's as heavy as we've ever finished one so I can't weight to see what this beef tastes like. We had a 61% yield which I believe is also the best we've ever done so this cow was well and truly finished. The ones behind this one are only getting better so we should have great beef for the summer.
I'll be pulling all of the pre-orders this afternoon, which means that a lot of what just came in will be going right back out but we are back in business on beef. As a reminder we are closed tomorrow for a party for my kids. If you need to get something, send me an email and I'll try and find a time to get you in. Probably first thing tomorrow morning. I'll be open on Monday afternoon for folks wanting to get by, then next week is pretty much already booked. Next Saturday we are still in good shape for appointments though.