There has been a bag of Amish Noodles staring at me from the pantry for a month. In July,  my daughter and I traveled to my home state of Missouri, the northwestern corner of the state up by Kansas, where Mennonite & Amish Markets abound. There I bought a bulk bag of Egg Noodles with dreams of Beef Stroganoff.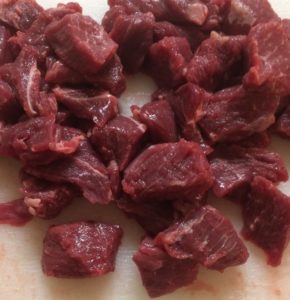 One of our big sellers is Beef for Stew.  I use it for many things soups, stews, kebabs, etc.   This meal is larger, feeding up to 8 people (Or my just my ravenous bunch of kids – Editor/Farmer).
Boneless Beef for stew runs $8.99 per pound with all of the ingredients listed you'll have dinner for roughly $12-$15. If you want to jazz it up a bit use one of our Sirloin Steaks at $14.99 lb, thinly sliced with the fat removed.
Beef Stroganoff
1 lb NCF Beef for stew
2 tbsp Butter (extra virgin olive oil can be substituted)
1 med yellow onion sliced thinly
3 cloves of garlic  minced
8 oz Cremini mushrooms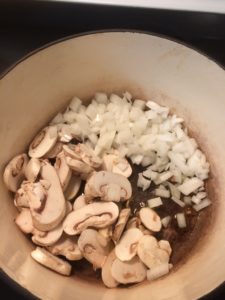 1 cup beef broth (low sodium or no salt)
1 cup Guinness  beer or  1 cup Pinot Noir (if you prefer no alcohol double the beef broth)
2 tbsp Worcestershire sauce
1 tbsp Dijon mustard
1 cup sour cream
1 cup fresh peas *optional
salt & pepper to taste
The Beef for Stew chunks are rather large. The first step is to cut them down to bite size removing any left over silver skin, season with salt and pepper.
Melt the butter in a large deep casserole or dutch oven over med heat.
Once the butter has melted add in the onions & mushrooms lightly salt, cook until the onions are translucent with a bit of browning showing.
 Add seasoned beef and cook till browned.
Toss in the garlic and cook until fragrant, about 1 minute.
Next up add the broth, Worcestershire sauce, Dijon mustard and the beer.
Lower the heat to med low.
Place lid on and simmer for 45 min to 1 hour stirring frequently if the  liquid is greatly reduced add a bit more broth.
If  adding in peas do so now, let cook for 4 minutes.
Add in sour cream
Taste adjust salt and pepper.
Serve over warm egg noodles.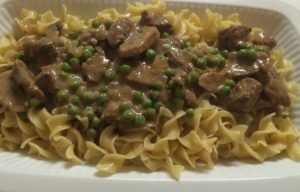 Noodle Prep
2 cups Extra Wide Egg Noodles
1/2 tsp Nutmeg
1 1/2 tbsp Butter
Prepare Egg Noodles per instruction on bag.
Drain
Finish with butter and Nutmeg