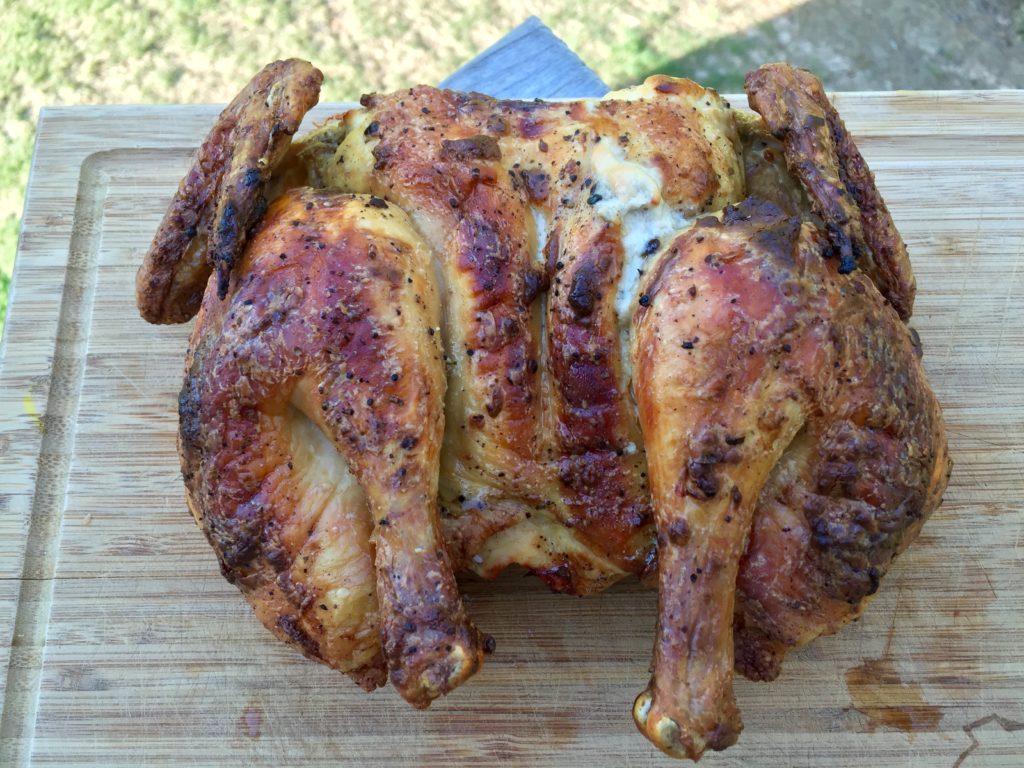 The whole chickens at Ninja Cow Farm are absolutely delicious.  Everyone knows how to do a beer can chicken, so I wanted to share another way to prepare these delicious birds.  Spatchcock chicken is a style of preparing birds to be roasted in the oven.  It's a very simple technique that takes 5 minutes to prepare and it drastically reduces the time it takes to roast a full bird.  In essence, you use kitchen shears to remove the spine and lay the bird flat.  Here is a quick youtube video showing exactly how to perform this technique:
What do you need
One whole chicken from Ninja Cow
5 oz of Boursin cheese garlic and herb spread
Salt and Pepper
What you do
Spatchcock the bird by removing the spine using the technique above with kitchen shears.
Separate the skin using your fingers along the top of the breasts and along the sides by the thighs.  Carefully work the Boursin spread under the skin from the top of the breasts and along both thighs.  Simply use your fingers to massage the Boursin under the skin until that bad boy is loaded up.
Dry the skin on the outside.  Add salt and pepper.  Feel free to spread any remaining Boursin on the outside of the skin.
Place the bird on a wire rack on top of a baking sheet to keep it from sitting in its juices.  This will ensure you get crispy skin, which everyone loves!
Roast at 425 for 15 minutes in the middle of the oven and then drop to 350 until the bird reaches an internal temperature is 165 (approximately additional 40 minutes for a 3.5 pound bird).
Tip–the skin of my bird was crisping up quicker than the internal temp  was approaching 165.  If this happens, cover the bird with an aluminum foil tent, which will slow the crisping of the skin and allow the IT to reach 165.
Now enjoy this delicious and flavorful meal with your family!