Fall has finally arrived here in North Carolina, the past few days I have been at the NC Choices Women in Meat Conference. The Conference was held at a camp over in Efland, NC. There the leaves were beginning to change slightly. I came back with many new ideas full of inspirations from the talented women I was surrounded by.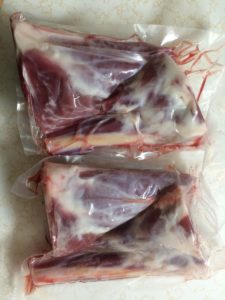 With cool mornings and crisp sunsets it is time for some heavier flavored dishes. Lamb can be a finicky creature but the shanks are a great part to start with as a beginner. They can take a bit of abuse with cooking times and still turn out melting in your mouth.  Lamb Shanks are a cool weather treat when braised with Carrots & Prunes. My braising liquid will be Red Wine. The wine lifts the flavor of the lamb and the prunes add a sweetness without leaving the savory realm.
In the NCF Store we carry Pasture Raised Lamb from High Rock Farm and Thistle Down Farm. The shanks are priced at $10 lb. The dish I am making with the shanks pairs well with Rice, Quinoa or Roasted Potatoes. Each Shank should yield about 1 1/2 servings and are packaged in twos. Dinner for 4 will run about $25 making it a great alternative to a leg of lamb if you have a small family. And at this cost you don't need an occasion to make it. Lamb warms your soul with its depth of flavor.
Braised Lamb Shanks with Red Wine
4 Lamb Shanks
2 TBSP EVOO
2 6″ sprigs of Rosemary
2 cups red wine (for cooking I rely on Rex Goliath Pinot Noir)
1 cup diced prunes
1/2 cup  diced carrots
4 crushed garlic cloves
Salt & Pepper to taste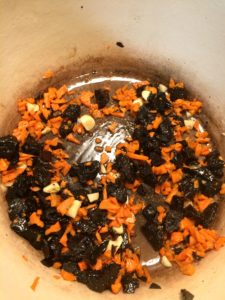 Preheat oven to 350
In a Dutch Oven heat EVOO on med hi heat
Season shank with salt & pepper
Working in batches of 2 shanks brown shanks on all sides
Remove shanks to cutting board
Reduce heat to medium add in prunes, carrots & garlic,  brown about 3 minutes
Pour in red wine deglazing the pan ( run a heat proof spatula or wooden spoon along the bottom of the pan to get up the crispies)
Add in the lamb shanks
Rest Rosemary on lamb shank cover and place in oven
Cook for 60-90 min.  Lamb shanks size are dependent on the lamb if smaller they will cook faster. You want the meat to pull away gently with a fork. If it is not place back in stove and check in another 15 minutes. Lamb shanks take abuse of heat easily so do not fret if you are new to this.
Rest for 5 minutes before serving.