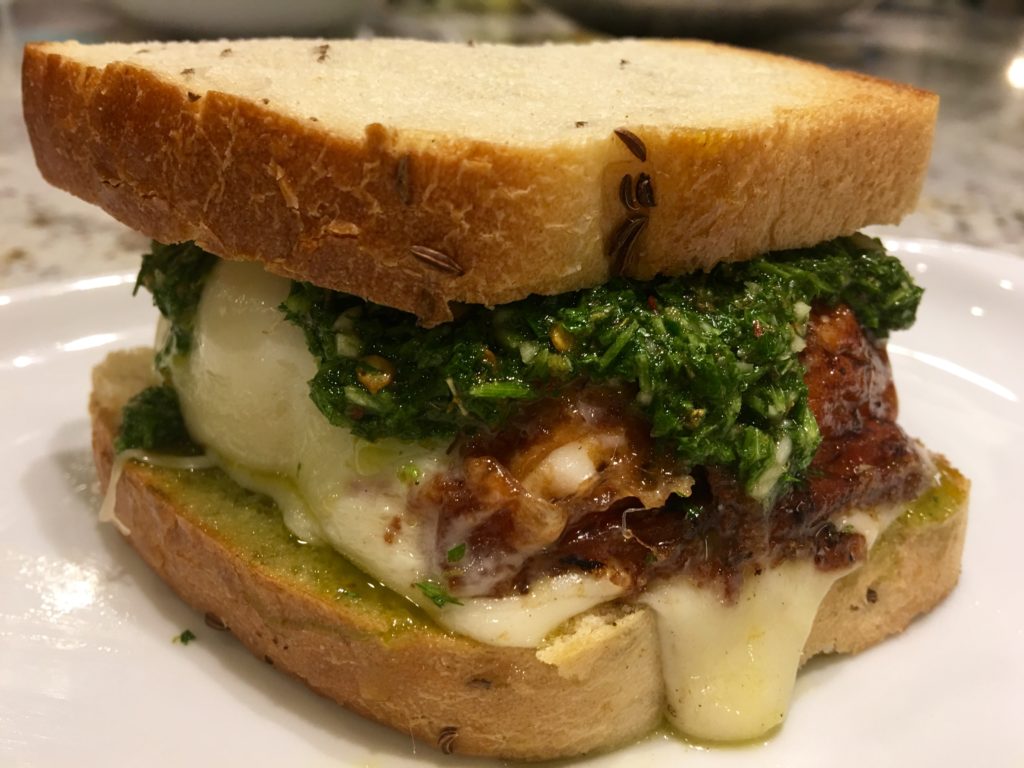 Chimichurri is a magical sauce that comes from Argentina.  It is a beautiful compliment to all things beef and pork.  It's primarily made with parsley, garlic, oregano, cracked red pepper flakes and olive oil for strong and simple flavors.  I used it in this recipe to take this burger to the next level.
What you need
For the Chimichurri Sauce:
1 cup fresh parsley washed and dried
5-6 medium cloves of garlic
2 tablespoons of dried oregano
1/2 extra virgin oil
1/4 cup red wine vinegar
1 teaspoon of salt
1/4 teaspoon of crushed red pepper flakes
For the burgers:
1 pound of Ninja Cow ground beef and 1 pound of Ninja Cow ground pork (alternatively, 2 pounds of ground beef)
salt and pepper
Crusty bread slices or sourdough for the buns
6 slices of thick cut provolone cheese approximately 1/4 inch thick.  You can get these cut thick at any grocery store deli
What you do
For the Chimichurri Sauce:
Place the sauce ingredients in a food processor and pulse until finely chopped.  Use a silicone spatula to scrape the contents down the sides of the food processor as necessary.  Cover and refrigerate.
For the burgers:
Gently mix the ground beef and pork being careful not to over compact the meat, which will result in a less juicy burger.  Gently form 6 patties with the two pounds of meat.
Generously salt and pepper the outside of the burger (no need to mix seasoning into this burger as that can also reduce the juiciest of the burger.  Trust me, this delicious morsel will have plenty of flavor).
Cook in a cast iron skillet with a little olive oil over medium-high heat.  Wait until the cast iron is lightly smoking with the olive oil.  Cook for approximately 5 minutes (120F for rare and 135F for medium) and allow to rest on a plate for 5 additional minutes.  Allowing the burgers to rest is key to assuring a juicy burger.
Meanwhile, toast your bread under the broiler in your oven.
Clean your cast iron with a paper towel and reheat until lightly smoking. Using a metal spatula, brown the provolone 2 slices at a time for approximately 20-30 second on each side until the cheese browns and starts to melt. Don't worry if this gets a little messy.  It adds to the experience.
Serve and enjoy!
Left over Chimichurri?  Use it tomorrow with Ninja Cow steaks or pork chops.  Bon appetit!