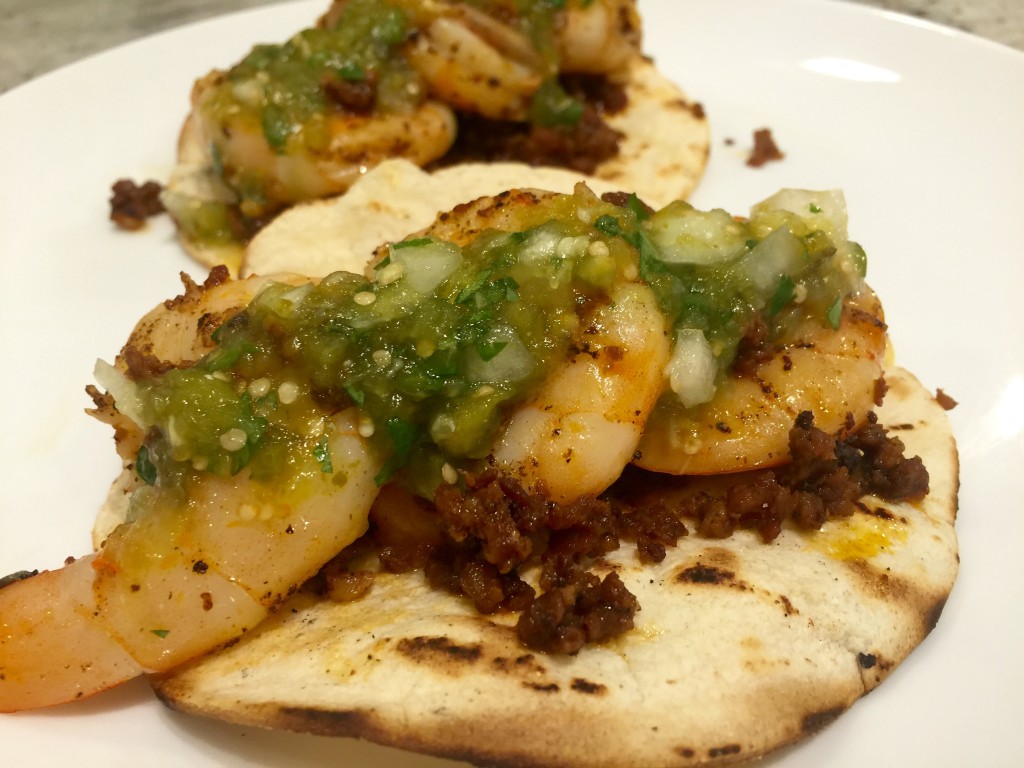 Tacos are the perfect vehicle to eat meat.  If you have good meat, just about any combination will be delicious.  This recipe calls for Ninja Cow chorizo and shrimp.  Like Dan, I only get my seafood from Earps.  Period.  That place is amazing, locally owned by good people, and has the best fresh seafood around.
What you need for the tacos:
1 pound of peeled and deveined shrimp;
1/2 pound chorizo (about two links)
1 tablespoon of butter
1 tablespoon of olive oil
salt & pepper to taste
corn tortillas (flour if desired)
1/4 teaspoon of baking soda
What you do:
 Dry brine (i.e. toss) the shrimp in 1 teaspoon of kosher salt and 1/4 teaspoon of baking soda and let rest for 30-45 minutes. This will result in more firm, crisp shrimp.
Brown your chorizo after removing it from the case.  Add cayenne or any other chili desired if you want to kick up the spice.  Drain excess fat and place on plate with paper towel.
Toast your tortillas.  I like to toast corn tortillas in cast iron three at a time in one stack.  Toast, flip the whole stack, flip the toasted tortilla to expose the raw side, flip the stack, and repeat until they are ready to be removed 1 at a time. Place cooked tortillas in a clean kitchen towel to keep them warm.
Cook the shrimp on medium/high heat in olive oil for 1-2 minutes per side.  I add a tablespoon of butter for flavor once the shrimp are in the skillet.  You want to cook the shrimp until lose their transparent appearance and remember, they will keep cooking even after you remove them from the skillet.
Assemble and enjoy.
The real star of this recipe and many of the Mexican themed meals I make, is the salsa verde.  Pictured above is normal salsa verde and you can also make it "charred".  The difference is boiling the ingredients before blending versus roasting the ingredients in the oven (or on a skillet) before blending.   I find that charred salsa verde has a more complex flavor with smokey notes.  Boiling the tomatillos can be difficult because if you let them go too long and they split, you will lose a ton of flavor.
What you need for charred salsa verde:
8-10 tomatillos (remove the husk/stem and wash to clean off the sticky residue);
2-3 jalapenos with/stems removed;
1/2 of a white an onion quartered;
2 cloves of garlic peeled;
cilantro;
salt;
1 lime
What you do:
 Line a baking sheet with aluminum foil and place tomatillos, jalapenos, onion and garlic cloves on it;
Broil for 3-4 minutes per side until all of the ingredients start to get black and charred;
Place ingredients into blender including draining all of the juice from the baking sheet (that is where the best tomatillo flavor comes from!).  Add half a bunch of cilantro, juice from 1 lime and blend;
Add remaining bunch of cilantro chopped;
Add salt to taste, but don't be shy with it.  Salt is needed to bring out the full flavor of this salsa.
I hope you guys like this recipe and the salsa verde.  The salsa verde is a great recipe to have in your tool box.  It is extremely versatile and it is forgiving with entrees that are not perfectly cooked.  In an upcoming recipe, I will share a salsa roja before we move on to some French sauces!