One of our customers dropped by last week to let me know he was putting on a crawfish boil at the Beerded Lady in Garner. He was looking for some of our sausage to use in his cooking and made sure to invite us to attend as well. I had only recently visited the Beerded Lady for the first time the week before. It had been like a surprise family reunion for me, as I ran into all kinds of people that I knew and hadn't seen in too long. I don't really drink beer so the beer aspect wasn't appealing but seeing more of my old friends and supporting my customer's crawfish boil were both great reasons to stop by.
SWMBO had to go out of town suddenly so alone I went to the Beerded Lady and found this.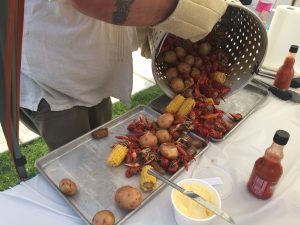 I can't eat the potatoes and corn, but the crawfish and sausage I could dive into. As I arrived, I heard the announcement that the sausages were limited, to only get one if you hadn't had one yet. That made me feel good because it was our sausage that was in demand. Bad that they didn't have enough, but I'd rather be in demand than have people unhappy with our product.
The food was delicious and once again I ran into people that I knew and hadn't seen in forever. I also made some new friends, ran into some more customers, and overall had a large time. I ended up hanging out for a few hours and picking up some goodies for some friends of mine to deliver (Shh, it is a surprise).
If you haven't been to the Beerded Lady, I suggest you take the time to visit. Even if you are not a beer drinker, it's a really nice place run by nice people. They also have cider, wine, and mead for sale so there are more choices than just beer. It's a great addition to Garner.