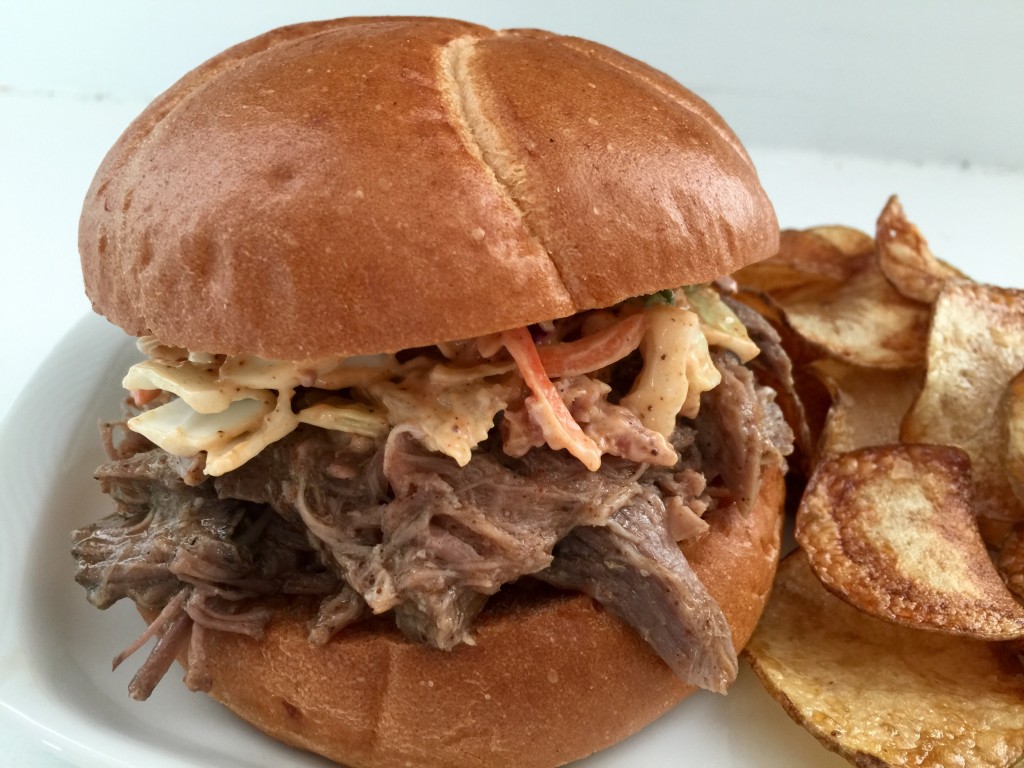 I stopped by Ninja Cow this past Saturday and was shocked to learn that a lot of customers don't buy the pork shoulder (aka Boston butt).    This is like going to Philly and not getting a cheese steak.  I am convinced folks avoid pork shoulder because it can be an intimidating cut of meat to prepare.  Let's remedy that.  You don't need a smoker for this recipe nor do you need to be a pit master in order to get wonderful results.  If you can use a crock pot, you can enjoy some of the best BBQ around.
It is important to appreciate that raw pork shoulder is tough and fibrous.  It requires low heat over a long period of time to break down the meat and make it tender.  Classic North Carolina BBQ utilizes vinegar to assist with breaking down the connective tissue so that you can pull the meat apart (i.e. pulled pork).    Whether you cook your shoulder on a smoker, crock pot or in a dutch oven, low and slow is the way to go.
What you will need:
Ninja Cow Pork Shoulder (most of these are 3-4 pounds, which is what the cooking time is based on).
3 tbsp dark brown sugar
1 tbsp smoked paprika
1 tbsp cumin
3/4 tbsp garlic powder
1/2 tsp cayenne pepper
1/2 tsp ground cinnamon
1/2 tsp ground mustard
1/4 tsp ground cloves
A pinch or 2 of crushed red pepper flakes
a few dashes of your favorite hot sauce
salt to taste
2 cups chicken stock
1 cup apple cider vinegar
2 tbsp corn starch
(optional) 1 tbsp of high quality hickory liquid smoke. I don't use this, but feel free to add some if you want a little smokiness.
What you do:
 Make your rub.  Combined the brown sugar, paprika, cumin, garlic powder, cayenne pepper, cinnamon, ground mustard and cloves. *note that we will be reducing the retained liquid for the sauce and I always recommend adding salt at the very end because what tastes great can become intolerably salty after reducing/concentrating flavor).
Generously apply the rub to all sides of the pork shoulder.  You will still have about 3/4 of the rub left over.  Retain.
Heat a little olive oil in a large skillet and sear all sides of the shoulder over medium/high heat (about 3-5 minutes).  You are looking to caramelize the rub on all sides, but not burn it.
Add the shoulder to the crock pot with the skin side down.
Combine chicken stock, vinegar, a few dashes of your favorite hot sauce, 3 tbsp of your rub, add a pinch or two of cracked red pepper and add to the crock pot.  *Note–you can make the sauce beforehand to allow the flavors to meld even more.  Also, you will still have some rub left over.  I typically use the extra rub to make my own cole slaw to top off the BBQ sandwich.  Just add to taste with mayonnaise, a teaspoon of apple cider vinegar and stir in your slaw.
Cook on high for 3 hours and reduce to low for 2-3 hours.  High on a crock pot is not that hot and placing the skin down will insulate the meat.  I typically remove the shoulder at around 4 hours and speed up the process by using a boning knife to free the meat from the bones and cut it in to large chunks.  Discard the bones, excess fat and skin at this point as well.  The BBQ is ready when you can easily pull it apart using tongs or two forks.  You want it tender, but not overcooked into mush. Remove the meat and set aside.
Using a ladle, skim off most of the fat from the retained sauce in the crock pot.  Add the sauce to a large pan and bring to a boil on high heat. Reduce for 10-15 minutes.  The goal here is to reduce the large amount of liquid into a much more concentrated and flavorful sauce.  Use the ladle to continue skimming off fat as the sauce is at a rolling boil.  It's ok if you don't get it all, but I like to remove most.  When the sauce has reduced by 2/3, slowly stir in a corn starch slurry (i.e. 2 tbsp of corn starch stirred into 2 cups of water).  Only add about 1/4 to 1/2 cup of the slurry at a time because you can easily over thicken the sauce.  Keep reducing until the sauce is very viscous and the bubbles pop like magma.  Add salt to taste.
Combine the sauce with the pulled pork in the crock pot on the warming setting and enjoy!
PRO TIP–if you are feeding a lot of people or want plenty of left overs, add some of Dan's already made BBQ to the mix when you combine the finished sauce at the end.  I do this every time.
I served this BBQ with fresh-cut potato chips.  Do you own a deep fryer yet?!?  If so, I also recommend buying a mandolin slicer.  It will cost you $20 bucks on Amazon and it is really useful for prep work like cutting potatoes into delicious fresh made chips.