I took the day off today. Instead, today was a farm day, all day. I started about 4:45 cooking breakfast. Bacon we smoked ourselves and an omelette from our eggs with cheese I also smoked. By 6am I was in the shop working on our new pig trailer. This trailer is a hydraulic lowering trailer that will sit down flat on the ground via raisable wheels. We are modifying an old flat-bed trailer that we had left over from the old days. Once the hydraulic axles are made, we'll make a cage on the flat deck of the trailer with a gate where we can let the pigs in. The idea is we put the trailer in the pig paddock, put some food in the trailer, the pigs walk on to eat, then we close them in. Lower the wheels and then you drive the pigs to wherever they need to go next. It's the Cadillac of pig moving.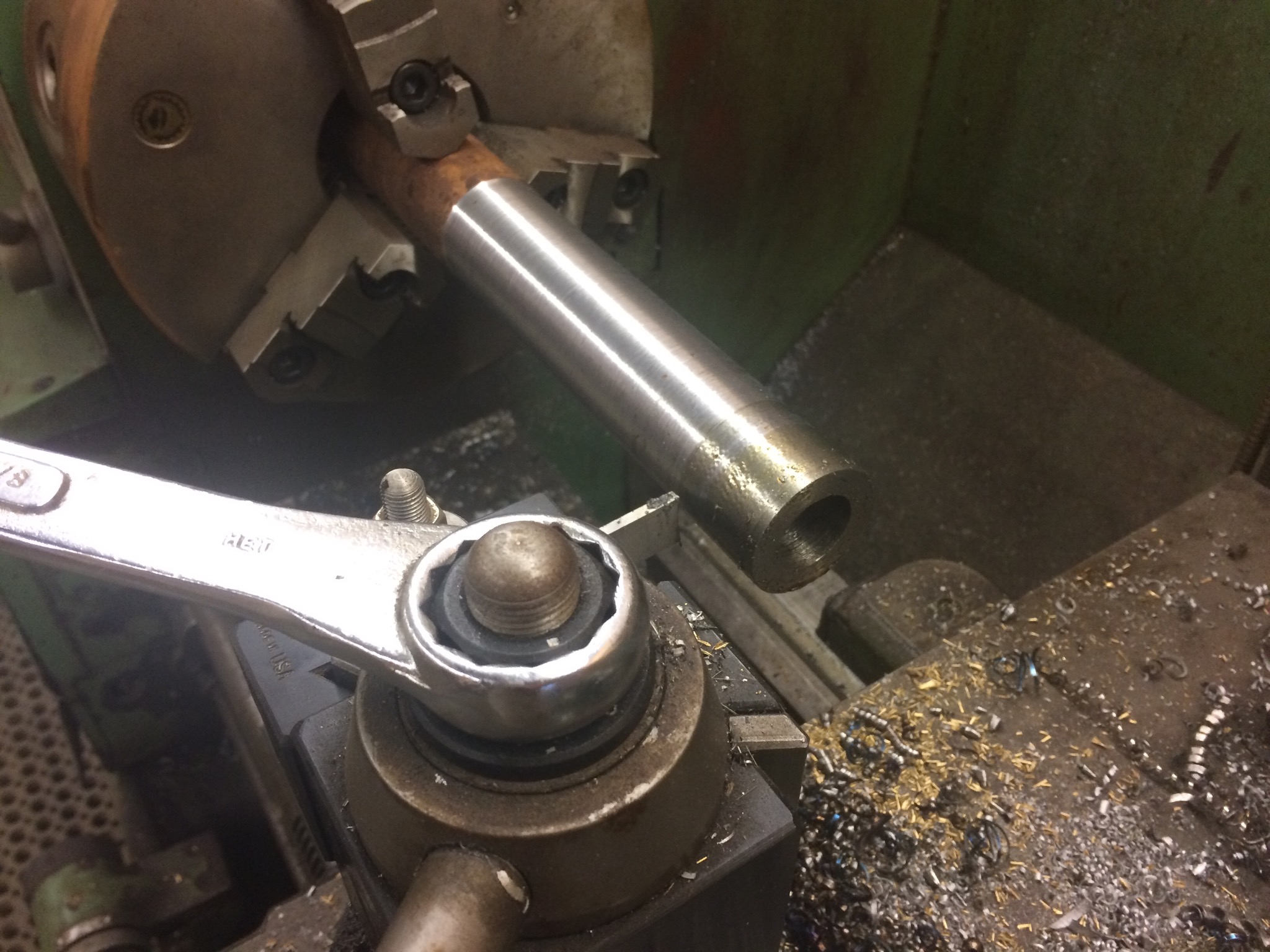 This mornings project was to make pin bosses for the cylinders. I already had some 1.5″ steel round bar so I just cleaned it up on the lathe and drilled out the 1″ interior dimension. I was able to make 6 pieces, just what I needed, before the guys from the well company showed up at 8:30.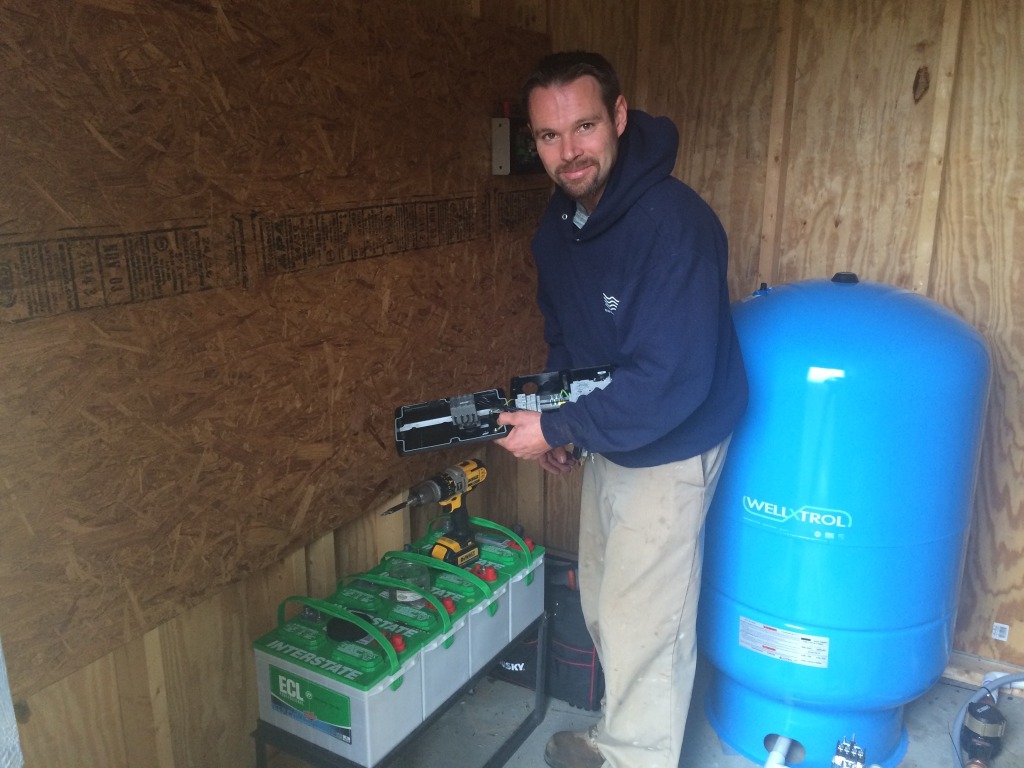 The well project is finally coming together after all the earlier work we did.  NW Poole is doing the work and they are installing solar panels, inverters, wiring, etc. The batteries and battery table are courtesy of yours truly.
There were some missing parts so the well will be finished tomorrow rather than today as we'd hoped. More pictures to come as it gets closer to completion.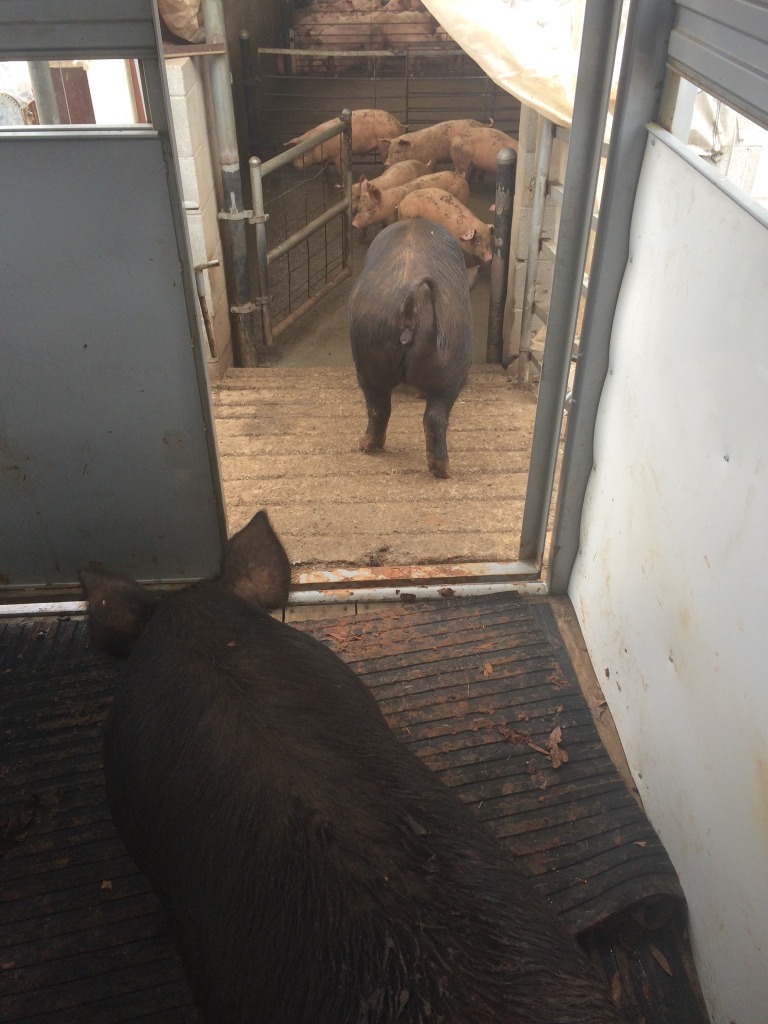 I had to leave the well project to go deliver two of our pigs to the processor in Bailey, NC. This is our first time using this processor, Dean Street Processing. They are new and are much closer than Acre Station where we've been taking our pigs (45 mins vs 2 hours drive time.) I had to spend some extra time since this was our first drop off but everything went great. The pigs walked right off the trailer and didn't cause any fuss. They were rather odd-looking because our pigs looked like Godzilla in Tokyo compared to the commercial pink pigs that everyone else was dropping off. They were more than twice the size.
After settling up with the processor, I hurried back to Garner so I could go with Miguel to return the backhoe we used to bury Benjamin. After grabbing a quick lunch at El Toro, and returning with Miguel, I loaded the freezer truck with 250 pounds of beef and various other goodies and took off for Fayetteville to make a delivery. It took about 45 minutes to sort out all the beef, get an invoice written up, etc, then one hour drive time home to arrive at 5:30. I met with Miguel to review the day and plan for the rest of the week (that sounds much better than "BS for a minute on the day").
After Miguel left I spent some more time in the shop and then came to the house for dinner. Ninja Cow brisket, leftover from yesterday. Then our friend Dana called to pick up some beef so back to the barn to get her fixed up with a  big order and finally to the house at 7 to grab a shower.
It was a long but productive day. The freezers are a bit lighter and our customers are happy. Everything worked, and nobody got hurt. Sounds like a good day to me.