Update for May 2020.
Pricing is not updated to current. Market conditions are changing things too rapidly. In store pricing is current. These prices are for reference only at this time.
End of update
We purchase our chicken from a farmer friend of ours who raises chickens the way we would. Brittany Ridge Farm lies in the eastern part of North Carolina. Christy  allows her birds to free range while giving them a 21% protein feed milled in Statesville, NC.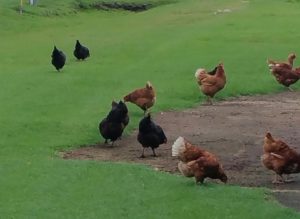 We stock whole chickens and packs of parts. All are routinely kept in stock.
Eggs 5.00 per dozen
Whole Birds
Whole chicken $5.50 per lb
Whole – cut up $6.50 per lb
White meat
Boneless skinless breasts $13.50 per lb
Split breasts $10.00 per lb
Dark meat
Quarters $7.50 per lb
Drumsticks $7.00 per lb
Chicken tenders $13.00 per lb
Thighs $7.50 per lb
Wings $6.00 per lb
Backs and necks $4.50 per lb
The other bits
Feet $4.50 per lb
Chicken livers $6.75 per lb
Gizzards $4.00 per lb
Hearts $4.00 per lb
We also have other types of fowl – special order
Quail $12.00 per pack – Currently not stocking
Duck $8.45 per lb
Not Fowl but from the same Farm
Rabbit $10.50 per lb