This morning Lucy and I will be riding to Siler City to pick up our latest cow's worth of meat. That means we'll have shiny new beef for you, and all cuts in stock, by the time Lucy opens at 2pm on Friday. It also means we'll still be well stocked this Saturday so if you'd prefer to get a fresh chocolate chip cookie with your beef, come Saturday 8-5 instead and indulge.
On the way home from Siler City, we'll stop off at Celebrity Goat Dairy and pick up new cheese, and Mango gelato! A brand new flavor just for us. (Did I mention that SWMBO LOVES mango?) Well Brit said if I ordered enough, he'd make me some. SWMBO will be a happy girl, and you can be one too (unless you're dude, then you're on your own 🙂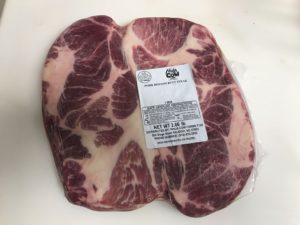 We also restocked on pork Thursday, along with chicken and dairy so all in all we have goodies for you in the store. Lucy and the processor had some sort of high end meat cut conversation this last time. I didn't follow it all but I know she was ordering new stuff. I opened one of the boxes and discovered what you see above. Boston Butt Steaks! If that's not a pork ribeye, I don't know what it is. I'm ready to slap it on a plate and try it out, but SWMBO already has the menu set for this week. Next week, we are trying these! If you want to beat me to the punch, we have plenty of them to try. Just let me a few!
The only thing missing in the store is we were shorted all of our heavy cream this week (they were out!) so I'm sorry if you are a coffee drinker! We will restock heavily next week on cream but EVERYTHING else is in stock, including pet milk so stop by today or tomorrow.