There has been a bag of Amish Noodles staring at me from the pantry for a month. In July,  my daughter and I traveled to my home state of Missouri, the northwestern corner of the state up by Kansas, where Mennonite & Amish Markets abound. There I bought a bulk bag of Egg Noodles with dreams of Beef Stroganoff.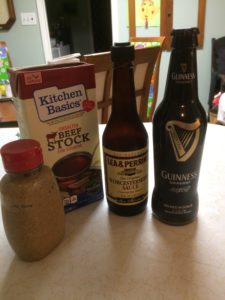 One of our big sellers is Beef for Stew.  I use it for many things soups, stews, kebabs, etc.   This meal is larger, feeding up to 8 people (Or my just my ravenous bunch of kids – Editor/Farmer).
Boneless Beef for stew runs $8.99 per pound with all of the ingredients listed you'll have dinner for roughly $12-$15. If you want to jazz it up a bit use one of our Sirloin Steaks at $14.99 lb, thinly sliced with the fat removed.