Organ meats are a new item in my house. The lead in charge of this are two unlikely suspects. Two that forever have told me to go eat my hippie foods. My husband and our daughter, Rutabaga.   Earlier this spring Rutabaga decided she liked grossing people out by eating weird things.  Her new favorite food coming from this is Lengua or Cow's tongue tacos.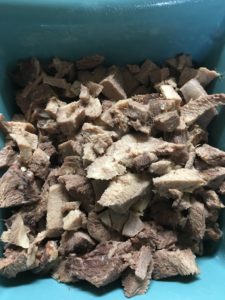 Getting my hands on a Cow Tongue was harder than you think. They are one of the first things to sell when we get a cow back from Chaudry's.  Only because we took a 2nd cow in July did I get one. And I justified it with my birthday, my  wish was to make my kiddos dream of Mama making her favorite dish come true.
Now for the cooking it is a 2 part procedure. First you will boil the tongue with the spices. Next pull out the person in your house that likes to do weird science. Step three chop & fry in a pan.  After the boiling & weird science portion you could actually slice the tongue thinly as a roast. There are limited photos in this recipe as many of you have a strong ick factor.