Are you ready for round 2 of Winter Blast?  Farmer's Almanac told us this would be a brutal winter and they were not lying. In the depth of the cold, comfort foods and soups call my name.  "Lucy, we'll keep you warm and cozy." Ahh warming soups, just a bit of added spice to warm you up after the outdoor cold.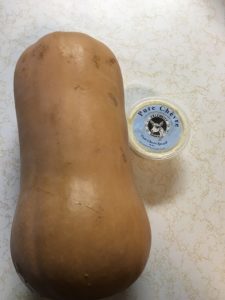 Butternut Squash Bisque is a classic bisque. Thick, velvety  and nutritious for you as well.  The past few weeks I have stared at this squash on my counter, now it is time to cook it. The twist is I'm adding Celebrity Dairy Goat Cheese to the mix, sold in the NCF store for $5 a tub.  The nice thing about Butternut Squash, is that you can mix it up with just about any of the Celebrity Dairy savory goat cheese flavors and it will turn out delicious. I definitely would not do the chocolate or mango though.
For added texture I with the bisque,   I recommend  Accidental Baker Crackers. The NCF Store Carries them in 3 Flavors Garlic & Rosemary, Sea Salt, and Black Pepper and Salt.  These crackers are locally made and taste great.