We haven't made too big of a deal about it yet, but we will now. Brittany Ridge Farms now has Turkey Breast. This means the NCF Store now has Turkey Breast. SWMBO & I have had some fun filling our families bellies with these wonders. Now I have to share. Even if I don't want to share.
The one thing I try to keep out of my house is processed lunch meat. I try to make a bit extra at dinner for a light lunch for us for the next day. Somehow there are rarely leftovers on meat though no matter how hard I try.  This means that once or twice a week I make an extra roast. Or if I make a Turkey Breast then my family has plenty of meat left over for a few sandwiches. And as much as my family loves the Herb Butter Recipe from Thanksgiving I prefer something a bit different from time to time.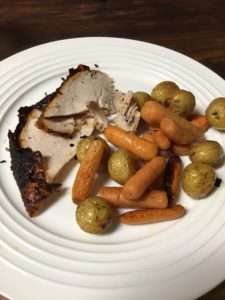 The one thing we still need to do with Turkey though is Brine. Turkey is just too low in fat through the muscle to make it a moist meat without Brining.  I recommend that you simply make the Brince the night before drop your Turkey Breast in it. Then cook it the next day the perfect brine time is somewhere between 12-23 hours. Some folks I know do a 36 hour brine, I only recommend this if you are using a bird that hasn't had time to properly rest after being harvested. Brine is a simple recipe 4 tablespoons of Kosher Salt to 4 cups of water.
Turkey Breast is sold in the NCF store for $10 per lb. The breasts weigh between 2.5-3 lbs. I usually get a dinner and 2 days of sandwiches for my family of 3. I then use the carcass to make soup. Waste not Want not.
Alarita Dry Rub is now a constant in my kitchen. I've gone through 2 bottles in the past year. I use it for roast vegetables and meats alike. It is a solid product at $8 a bottle.  It take a ho hum green bean or eggplant to "ooooo green bean & eggplant". The tiny bit of brown sugar in it balances the flavor for herby flavor.