Jam, is it sitting in your fridge doing nothing? Is it only making an appearance at breakfast or on a noontime pbj? Well ladies and gentlemen let me introduce jam for dinner.  Triple Berry Jam is the primary ingredient in this sauce it is from Buck Naked Farm at $8 a jar sold in the NCF Store.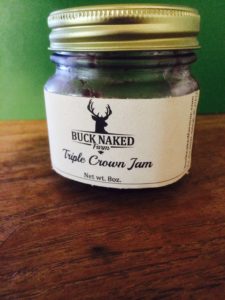 At the NCF store the chicken is provided through Brittany Ridge Farms The Split Chicken Breast run $10 lb.  They typically come 2 to a pack.  With the kids we usually split a breast between them. the skin however is always fought over.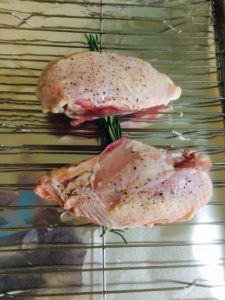 Jammin Sauce
1 Jar Buck Naked Farm Triple Crown Jam
2 tsp apple cider vinegar
1 sprig of rosemary
1/2 cup of water
1/8 tsp cayenne (optional)
 Combine all ingredients and bring to a boil on med. heat
Boil until syrupy and coats the back of a spoon.
Remove from heat to cool
Jammin Chicken
4 split chicken breast
salt & pepper
Preheat oven to 425F
Bring chicken up to room temperature about 1 hour on the counter.
Dry off with a paper towel, salt and pepper chicken
On a sheet pan place a cooling rack
On rack place rosemary sprigs
Place chicken on rosemary & place in oven 45 min to 1 hr until meat thermometer reaches 160F
Once the chicken reaches 160  glaze chicken with Jammin Sauce
Place chicken in oven for 5 minutes
Let rest for 5-7 minutes and serve.