School is back in session full swing & while we homeschool year round  this means our school year activities are keeping us busy.
Monday – Friday afternoons we race from horse back riding, girl scouts and art lessons.  That mean we need dishes we can prepare ahead of time then throw in the oven while the little one takes a bath & we do evening chores. It's a farm ya'll, there are always chores.
Tonight's dinner is one to make ahead. Usually on Sunday afternoons I like to chop my veggies for the week so I can toss and go when I'm cooking. Potatoes won't brown if placed in cold water in the fridge. That trick is only good for about 24 hours though so I still cut mine fresh.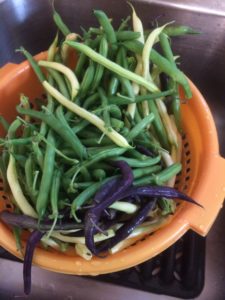 The other thing I have playing in my favor is the green beans I planted the end of July are now ready to harvest. The NCF whole cut up chicken is a great convenience item at $6.50 lb leaving me a few extra minutes. I go for about a 3.5 lb chicken or as close to it as I can get. The total cost with all of the veggies is about $30 and much healthier than the drive thru calling your name on busy nights.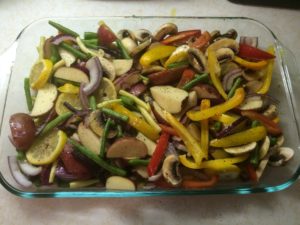 Lemon Chicken Bake
3.5 lb cut up chicken
3 lemons 1 sliced thin, 2 juiced
1 lb green beans
8 oz sliced mushrooms
2 sliced bell pepper (go for color)
1/2 of a red onion thinly sliced
1 lb small red potatoes
5 cloves of minced garlic
salt and pepper to taste
3 tbsp olive oil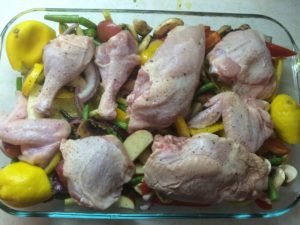 Directions
Preheat oven to 425
Place veggies,sliced lemon. onion, garlic, and Olive Oil in a deep baking dish, add salt & pepper then mix well.
Move potatoes to outer edge of pan.
Pat Chicken dry with paper towels
Place chicken on veggies
Drizzle entire dish with lemon juice
Salt & Pepper Chicken
Bake for 1 hr or until golden brown. (If relying on a thermometer the center of the chicken breast should be 165 degrees)
Once again rest for 5 minutes before serving allowing the juices in the chicken to redistribute.