It'll be fun they said.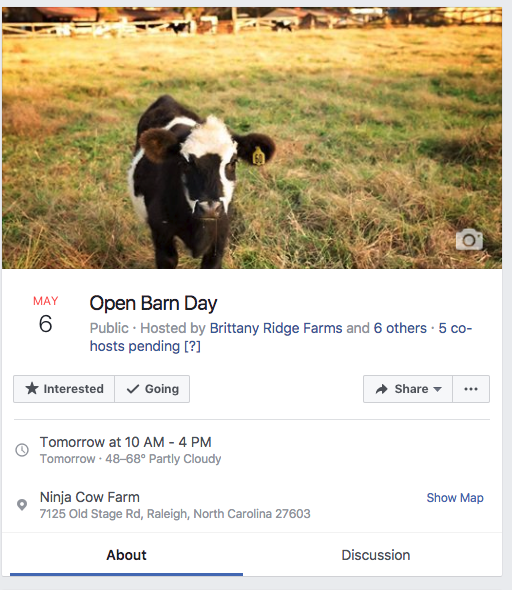 10 years ago, if you wandered onto our farm you'd be looking at the wrong end of a gun. This is private property. GET OUT!
5 years ago you had an appointment with me to take a personal tour. I did maybe 2 a week. We had no store, no store hours. We sold beef. That was it. The gate was closed all day and to take your tour I met you at the gate to let you in. You received your tour, then you went out and the gate closed behind you.
1 year ago we agreed to be part of the CFSA farm tour and had almost 300 people come through here over the course of two days. At some points, we had as many of 50-70 people walking around. Some of the time we had nobody here. Everyone on staff had their tongue hanging out after the event but it was a good tired.
Tomorrow is our open barn day here at the farm. We have 1600 people saying they are interested in coming on Facebook and 200 saying they are actually stopping by.
Plus we have signs up at Angie's in Garner, where about a million people eat breakfast and lunch every day.
We are featured in Carolina Parent Magazine's website. In fact when I clicked on their web page just now to grab the link, our farm is front and center on the main page.
And then WRAL picked up our story and has run it. That would be the same WRAL that has been my news source since I was knee high to a duck.
So we have experience with 300 people, over the span of 8 hours spread over two days. That's roughly 38 people per hour. No big deal.
If we take the 200 people who are saying they are coming on Facebook, subtract the 100 who won't actually show, add in the 150 who didn't say they were coming but actually show, that's 250 people.
Then we add the 50 people who show from Angies.
Then we add the 100 people who show from Carolina Parent that gives us 400 people who will be coming to the farm tomorrow.
Then heck, lets just multiply that x2 for the WRAL exposure. That would be 800 people coming to the farm. But instead of two days, we'll have part of one day to see all these fine folks. That's 133 people per hour instead of 38. Um, that's 3.5 times the AVERAGE number of people. That means we could have several hundred here at one time with the lulls tomorrow being what our average was for the last event.
So…. There have been tears already. A great amount of angst, and some mad dashes for preparation. It's been interesting and entertaining.
Today I'm picking up a truck load of meat. Lucy is heading to Celebrity Goat Dairy to pick up cheese. We've been stocking the store with new products like mad. We brought in a new display fridge and piled it with goodies. We've also invited a number of our vendors to be here for samples and we even have live music through a gracious customer. I'm going to give the Sheriff's office a call to talk about traffic control and we have a gaggle of teenagers coming to handle traffic and parking on farm. All the girls will be in the store along with adult help al day. Tonight it's all hands on deck in the store putting prices on items and doing final prep for tomorrow.
This will either be epic, or we will never do it again. Since the weather looks stunningly perfect, I'm guessing epic.
However if you are looking for us after 5 tomorrow, you'll find us behind the bar telling stories and seeing who won the betting pool on how the event would go. If the day isn't epic. I'm sure the night will be.