Ruth Reichl is one of my cooking icons.  When Epicurious ended I was gutted. Was her career over, would she continue to write? She is incredibly inspirational to my own cooking style. The recipe I made tonight was inspired by her. She would collect ingredients in the street markets on her way home and make a dish.  I went walking through our little market at NCF and came up with dinner.
London Broil is Flank Steak's big brother. Have a large crowd to please? Get a London Broil. Tonight's dinner is an indulgence, the London Broil is $10 lb and then the grits have Skyr Tykke  $5 (goat sour cream) & Garbo goat cheese $5. Our goat cheese products come from Celebrity Goat Dairy. With the veggies and stone grits this meal runs around $45.  This was our big family dinner of the week. This meal can be broken up or served with other items. The grits are a heavenly meal all on their own. Luckily we have lots of grits left over and I'm eyeing them for breakfast. There are 3 separate recipes in this one blog post. Please be patient with me.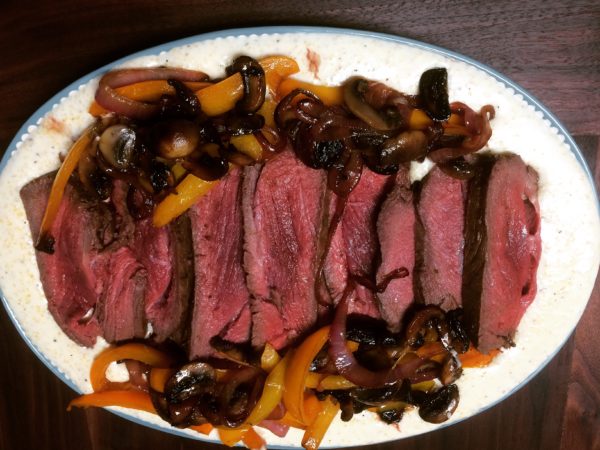 Peppers, Onions & Mushrooms
| | |
| --- | --- |
| Peppers, Onions & Mushrooms | |
Combine spices, herbs, lime juice, & soy sauce. Place London Broil in a 1 gallon zip top bag, pour marinade over, close & place in fridge for 8-12 hours.

Pull out 90 minutes prior to cooking. This is a very thick cut of meat that you want at room temp all the way through,

Line a jelly roll pan with foil, place a wire cooling rack on top on the jelly roll pan, place the London Broil in the center of the rack

Place Broil under the Broil for 12 minutes flip then cook for another 12 minutes ( London Broil is typically served rare to mid rare, my family choose the rare option)

Rest Broil for 7 minutes slice thin and serve over Goaty Grits.
Peppers, Onions & Mushrooms
In a large heavy bottom skillet heat the EVOO over med heat

Add mushrooms and onions cook for 5 min turning frequently

When onions & mushrooms start browning add in the peppers cook for 2 min

Turn heat to high add lime juice let veggies caramelize getting a bit dark.

Serve immediately with London Broil
In a 6 quart pan bring water, milk & heavy cream to a boil

Add salt & grits stirring often you don't want to scorch you milk

As the grits thicken up about 10 min stir in remaining ingredients stirring often.

Cook for another 5 minutes or until grits are tender.

Serve under London broil & Pepper, Mushrooms, & Onions Mixture.