Today SWMBO is off with her girlfriends and I'm off to the Sustainable Agriculture Conference in Durham. The kids went to stay with Grandma so Lucy and her hubby Jason have stepped up and are running the farm store in everyone's absence. Running the store is old hat for Lucy, except she's going to be out giving tours all day in Spork's place. Jason can surely run the store, but it's not easy doing something for the first time. I'll be a phone call away and Miguel and Vicente are here today so I'm sure everyone will be fine. But stop by and say hello to them anyway, and get some meat for dinner tonight while you are here.
This week I went to our lamb farmer in Oxford and stocked up on fresh lamb, enough that Lucy had to rearrange the freezers Friday to make enough room.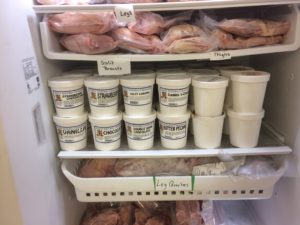 Lucy and I have actually been talking about moving the ice cream for a while. Where it was before was a little harder to reach, and it also was in a commercial freezer that goes through more defrost cycles than our residential grade freezer where our chicken resides. As usual, the Lucy did a great job rearranging the store so make things better.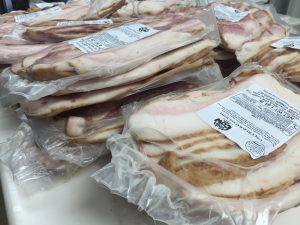 I also picked up bacon at the pork processor this week (along with other things) and we are more than stocked on awesome uncured bacon currently.
Also our chicken and dairy delivery was made this week so we have ice cream, chocolate milk, whole milk, and even some eggnog! Stop by today and see Lucy and Jason and pick up some goodies for the grill.