We don't sell whole hogs very often. 95% of what we sell is by the cut, in our store. But occasionally we sell a hog here or there. That's not to say I don't get calls often for people wanting a BBQ hog. Usually it's Friday morning, and after 10 questions from them, I ask when they need the hog.
"Today. The party is tomorrow."
Um, No.
Who plans a pig picking and then starts looking for the hog the day of? It's not like we are talking hamburger at Food Lion here.
However a few weeks ago I received a request from our friend Mike who runs Brew 'N Que in Cary and Apex. He had a catering job and needed a hog for the event. Mike's been a customer and a friend for years now, and he also understands what it takes to get a hog from hoof to spit, so I jumped through some hoops and made it happen. He asked for a 150 lb (that's hanging weight) hog. I passed along this request to Miguel and he selected and loaded a hog I thought weighed about 240-250, which would put his hanging weight about right. Then Mike updated me that he actually needed a 120 lb hog. Ugh, we already had our hog loaded. But I like to be a little heavy rather than a little light if I can so it's all good.
When this hog hit the scales at the processor, its hanging weight was 248 lbs! 100 lbs roughly over our target weight, 130 lbs over the updated weight! And when Mike picked it up, he told me it was too big to fit on the cooker. Ugh. We've been processing 400+ lb hogs so long that our sense of scale must be off. This guy looked little to me and to Miguel. We pride ourselves on picking the right hog and getting as close to target as possible and usually we are pretty good at it, and now we've screwed up our customer and his event. I apologized profusely and Mike said no worries, it's all good. I told him I'd only charge him for the 150 lbs he ordered so I gave away 100 lbs of premium pork. Expensive lesson.
But that isn't the story. It's just the setup.
I figured Mike would use the pork in his two restaurants. I mean, he does run a pork based operation and some free product would certainly help the bottom line. Then I received this a few weeks later.
First the link.
Family trying to get home after hurricane Irma.
Then a quick shot from the reporter.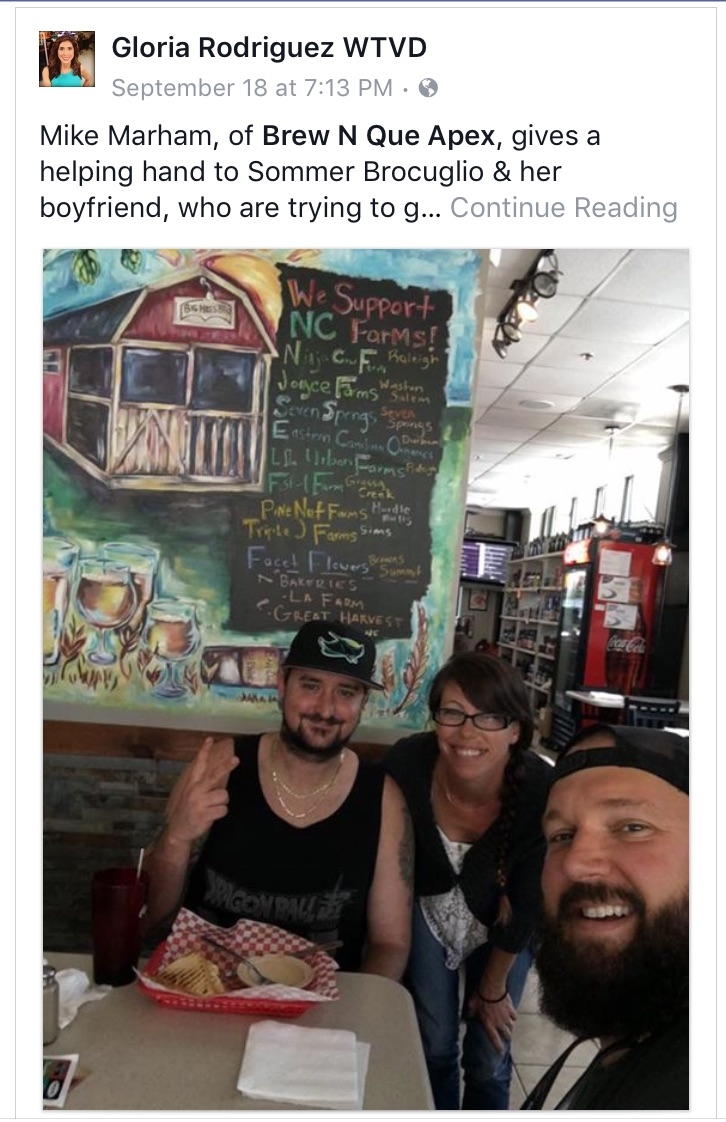 So Mike ordered a pig for an event and his farmer (me) screwed up. Most people would yell, threaten, refuse to pay, whatever. Mike says, no worries, I got it handled. He then BBQs the free meat and holds a quiet fund raiser for hurricane victims. He did all this just to try to do some good. Yes, he's on TV. No, he didn't know that was going to happen and he doesn't really know how it happened. They just showed up. Kuddos to Mike for thinking beyond himself.
People wonder why I don't worry about much. Because I've learned that the Lord's plan is so much better than anything I could cook up. I was frustrated we'd let Mike down when I found out the weight, but look at the end result. Our mistake in estimating a hog's weight, led to a customer having extra pork, which he turned into a way for a family we'll never know to get back home. If we hadn't screwed up, those folks might still be here struggling. You don't think they were praying for a little help in their situation?
"Lord, please help us find a way home?"
What would we expect from that prayer? An Uber to pull up. Money to fall from the sky? How about a farmer who suddenly can't estimate a hog's weight.
I looked at that hog myself, after Miguel had. It's not our first rodeo. We both know he weighed 250, maybe 260. Think maybe the Lord put his thumb on the scale when we were estimating and got us a hog big enough to make all this happen? I don't know, but I hope so. It's pretty cool being part of something bigger than yourself. Thanks Mike for sharing the end result.