Lucy here,  I stole the blog for an important announcement.
Spring is here for the 2nd time this year. We here at the farm are all really hoping it decides to stick around this time. Farm chores in the cold are miserable, add in wind or freezing rain and we all question our career choice. In honor of Spring I went digging in my Kari Underly book, " The Art of Beef Cutting" for some fun new cuts. Last fall I got to meet Kari and have her teach me for a few days at the NC Choices Women in Meat Conference.  In reading her book I decided that we needed some new steak cuts. Great pieces of flavorful beef yet not quite the same price as the fancier choices like Ribeye, Filet, NY Strip.
Luckily I have a great boss that is quite supportive in my monthly game of confuse the processor. This truly is a game as sometimes I win and sometimes I lose.  And you guys have been wonderful in trying out new cuts, especially the Boston Butt steaks a.k.a Pork Ribeyes.  Grilling season will be underway next week & I'm ready to get the coals going aren't you?
Our new cuts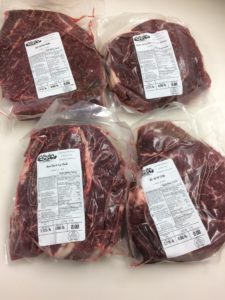 Chuck Eye Steak $12.99 lb 
Ranch Steak-  $9.00
 
Tri-Tip Steak
Bottom Round Steak $9.00 lb
Drop by today  and pick up some new steaks for next weeks warmer temperatures. For this week I recommend sticking with the stew beef, roasts & bones for broth.
New to our beef check out this great post from Dan on how to cook Grass Fed Beef.