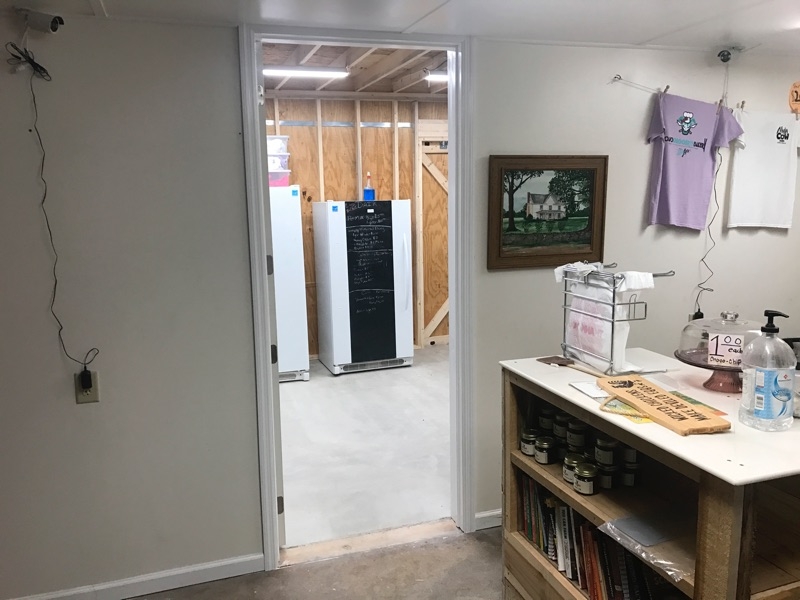 Ok, this one isn't as exciting to you as it is to us. But having this door here is a huge deal for us because we now have the freezer room connected to the store. That means when we have to bring stock in to refill the freezers, we bring it straight in and not have to walk all the way around the barn.
When you are moving a couple hundred pounds of meat from various freezers, being able to walk straight through is really nice. For you, when we disappear to go find that special cut, or your pre-order, it means we can pop out and right back. And not disappear for 10 minutes.
We are still slowly working on bringing the store together. I expect we'll have some new products in by the end of this month. We are still making selections, deciding what we'll carry, looking at new stuff. It's all very fun and exciting.
Today Lucy will be in the store from 2-6pm. You can see her use the new door because we had a large order for about 100 lbs of meat this week and the beef freezer will need to be restocked while she is here.
One of the additions we made recently was adding in a backup refrigerator. This allows us to hold more milk on hand. That means we are fully stocked on pet milk so for those of you always looking for some, we have yours and everyone else's currently available.
And of course, the girls will be in the store tomorrow from 8-5, with fresh cookies. Stop by and see them. The weather should return to gorgeous by tomorrow.