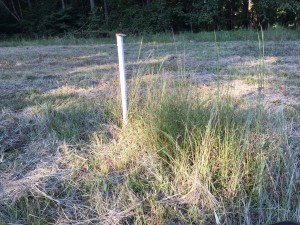 For 2015, we once again did not graze our back pasture at the bottom of our property. The grass is very sparse and thin, with not a lot of quality. It needs organic material added to improve the soil, something we'll try to address in 2016.
The grass in some areas did get up to 20″ or so in height but it wasn't worth grazing for 2015.
The pond near this pasture has a clogged stand pipe and the water going over the spillway is flowing into this pasture keeping it wet causing further issues.