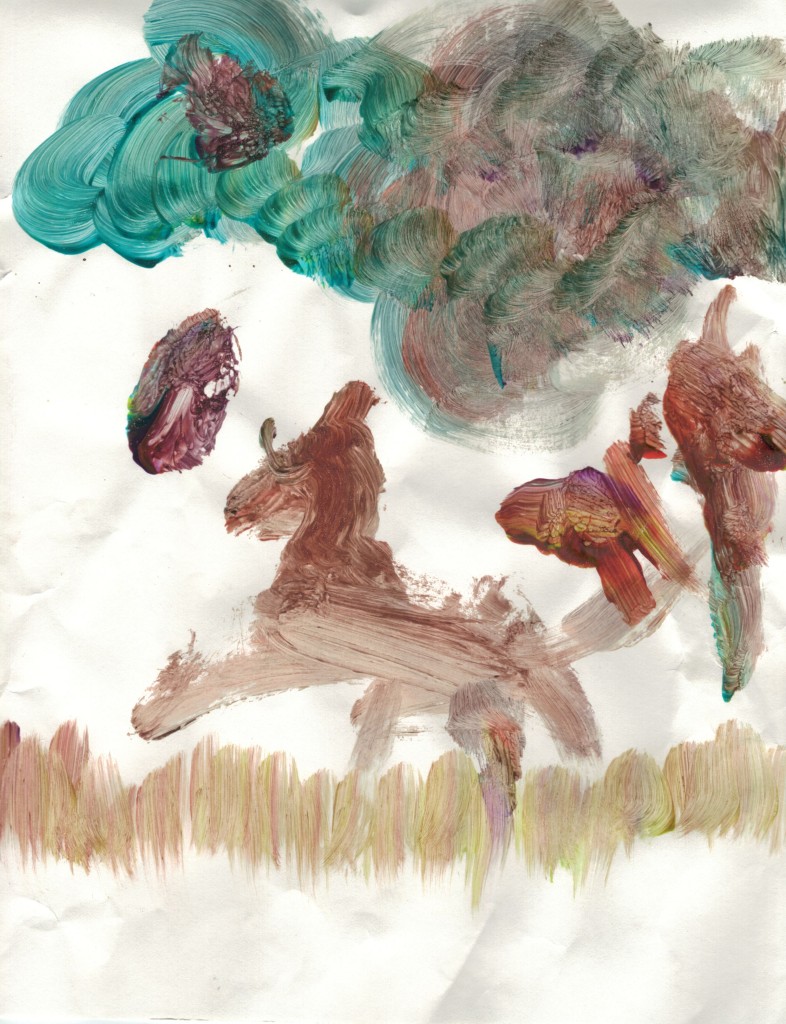 Last week we had a group of home schoolers out for a field trip. We do this type of thing often, averaging about 2-3 tours per week. Being homeschoolers ourselves, I always have a special place for homeschool families. This field trip took a few reschedules due to weather. I also learned that the coordinator had had a new baby TWO WEEKS before she came out and still made the trip and handled all the logistics details before hand.
As I welcomed the different car loads of people, I noted that one of the moms looked familiar. Sure enough, she and her daughter had been to our farm before for their own tour. The daughter, who was so cute I didn't even think to get her name, had painted the above picture for me when she found out they were coming back. When she hopped out, she handed me the picture you see. I immediately put the picture away safe in my office and I'm finally getting up here to scan it and proudly share it. How cool is that? She took the time to patiently explain to me what everything in the picture was, as if I couldn't see. I have three kids of my own, you know.
For those of you who can't see it, it's a horse running across the pasture. The grass is brown, but when she was here before it was winter and the grass was indeed brown. Behind the lead horse, you can see additional horses artistically represented but not clearly defined. Now at this point you may be saying to yourself, "Self, I don't recall Dan having any horses on the farm." Well, you'd be wrong. We had horses here for many years, something I'm sure I talked about on our tour and she remembered. Or maybe she likes horses better than cows so she drew them instead. I don't care, I love it anyway.
I'll be finding a good place to hang my picture. I just wish I'd gotten it signed and dated. Hopefully on their return trip.