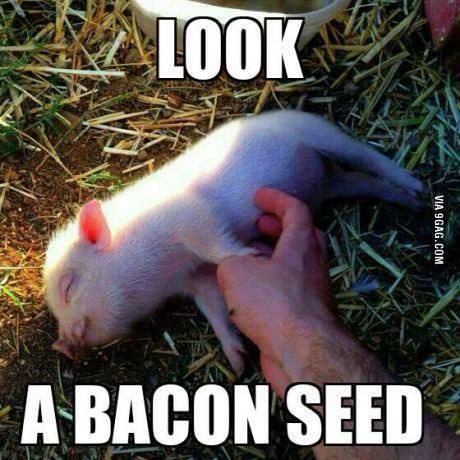 This past weekend we doubled the number of pigs we have on the farm to about 60. It took three trips to three different farms, while crossing half of NC, to pick up all the pigs. Fortunately we have two good local suppliers now who say they can provide us with piglets going forward. That means we should be again doubling our pigs on hand getting us over 100 pigs on farm at one time. About 110 pigs is our goal, enabling us to supply 20 pigs per month which is the volume we need to meet for 2015. If we can keep pigs and produce both flowing into the farm, we should be able to accomplish it.
A batch of Hampshire pigs before we offloaded them. These are from our new supplier in Smithfield.
Here is a closer, and much cuter, view of one of the pigs. This pig just laid in my arm and didn't complain. He was so cute that I had to take a picture. I think the fact that last time he was in this position he'd had his testicles cut out made him think he better behave this time.
We also went to Zebulon to pick up some larger pigs from a friend. These pigs averaged about 205 pounds each and are a cross of Duroc/Landrace and Large Black/Tamworth. Don't laugh at that many crosses. I'm a cross of Swedish/Scottish/Irish/English/Southerner. And that's only on one side of the family.
More of the big pigs. These look much more Tamworth than the others. Getting these big pigs in was expensive but it's a big boost to getting our production going. These pigs will finish around December, and the following batch should finish around February which will be just right. After that we have another batch finishing in the spring. With the pigs we've added now, we should finally have some pork in the freezer plus what we need to sell. I like the pigs from Zebulon. I don't know if it's because they are tame or just their disposition but they are calm and gentle, which makes them enjoyable to have around. Unlike the Spider Pig.
The new big pigs were turned into a fallow paddock with lots of food, and lots of grass and acorns to eat. They have settled in very quickly and seem quite content to enjoy their days on our farm. You can pet these pigs as they walk by and they are quite curious when you go into their paddock, coming up to check you out one by one. Despite the high cost, I'm happy with these pigs.
One of the things we are doing with our pigs is to try and knock back the Japanese stilt grass that is growing in all of our wooded areas. It seems you can do three things to stilt grass. Burn it, spray it with chemicals, or turn pigs loose on it. In the video above, you can see the pigs happily grazing the stilt grass, something the cows won't touch. Once all this grass is grazed, the pigs will root up the roots and eat them. By December this paddock won't have a single piece of stilt grass in it and will be ready for planting of something else should we so choose next spring.

Just to have a before picture, I took this photo of the pig paddock the first morning the pigs were in it. I'll get an after shot later in the year for comparison.
Did I mention that Spork was part of this endeavor all the way through? From riding all over NC to handling pigs. His speciality is pig catching in the trailer. I was able to catch his prowess, and the resulting hilarity in the following short video. He's not hamming it up, he didn't even know I was filming.