Boston Butt is porks most versatile cut. BBQ, roasted, sliced then grilled, soup parts or stew there are many things to do with a Boston Butt. Pork Buns are labor intensive so grab your children, spouse, neighbor etc for some fun help.  Whether tailgating or heading to a picnic this meat is perfect as it is self-contained.  This recipe makes about 24 pork buns. Boston butts sell for $7.50lb in the NCF store. You could easily get 2-3 meals out of a single one.  We made 16 pork buns with plenty of tasty pork leftover for sandwiches. Pork buns also freeze & reheat well.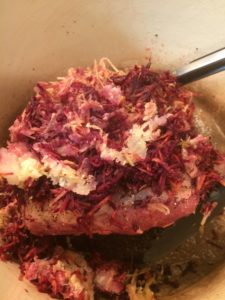 My dutch oven is my kitchen workhorse along side my trusty 8 inch santoku knife. Found easily at any store a dutch oven is an essential. Mine came from a big members only warehouse about 5 yrs ago for around $35. It is used at least 3-4 times a week.  If you don't have one get one. You can get a plain cast iron dutch oven, or you can get one that is enameled if maintaining cast iron worries you (it shouldn't!). If you ever move and can only take one pan, take your dutch oven.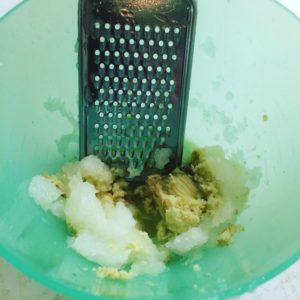 Pork Buns
2-3 cans of buttermilk biscuit dough
3 lb Boston Butt
3 inches of fresh ginger root
1 small yellow onion
2 carrots
4 cloves of fresh garlic
Salt &Pepper
PreHeat oven to 280 F
With a microplane, grate ginger, carrots, onion, & garlic. *This can also be done in a food processor or Ninja if you do not have a microplane. Do Not Liquify these ingredients though.
Salt and pepper Boston Butt
Place Boston Butt fat side up in Dutch oven. Cover Butt with grated mixture, place lid on and place in oven for 4 hours. We're giving the butt an extra hour so that it is shreddable.
After 4 hours remove from oven and let rest for 20 minutes.
Shred and mix in the grated mixture leaving the juices in the bottom of the pan.
Flatten biscuit dough out
Place 1/4 cup of pork mixture in each bun then seal the dough
Steam for 20 minutes or bake following the biscuit dough instruction. (I prefer steamed)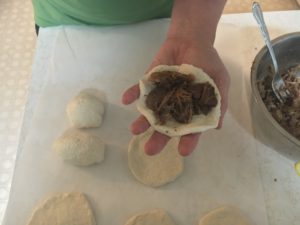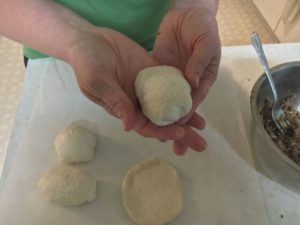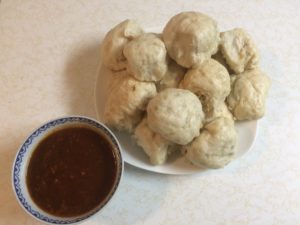 Dipping Sauce
1 nectarine, peach or plum (truthfully any ripened stone fruit with taste great)
1/4 cup Sweet Chili Sauce
2 tsp Soy Sauce
1 Tbsp rice wine vinegar (apple cider vinegar will work)
The pork drippings from the bottom of the dutch oven.
Reusing the dutch oven with the drippings in it remove as much fat as you can.
Peel fruit and chop.
Add in soy sauce, vinegar, & fruit
Heat over med/lo heat until sauce is bubbling then cook until fruit is cooked through about 5 minutes.
Remove from heat and blend.
Serve with Pork Buns