Last week left me without much time to cook. Due to Hurricane Matthew most meals were eaten at friends houses or out. Then the end of the week was so busy with obligations that dinner was out once again.  Now the evenings are longer and cooking is something I want to fill our home as well as our stomachs.
NCF carries pork osso bucco for $4.50 lb. Osso bucco comes in all sizes, from small to large. Personally I prefer the smaller more delicate cuts.They take less time to cook and are very flavorful. Fortunately we carry all sizes in the store.  The tomatoes, potatoes and sage came from the NCF garden making this a fairly inexpensive dinner for our family. Ragout is a french stew of vegetables usually served with meat.  I served the Ragout on a bed of garlic mashed potatoes although rice polenta or noodles would serve wonderfully.
Pork Osso Bucco Ragout
3 lbs Pork Osso Bucco
2 Tbsp EVOO
1 Tsp + 2 Tbsp kosher salt
1Tsp + 1 TBSP (divided) fresh ground pepper
2 Tbsp Dried Sage Leaves (Not Rubbed)
1 cup Sherry
1 cup unsalted Beef Broth
1/4 cup Apple Cider Vinegar
2 cups diced tomatoes – I used frozen tomatoes from our summer garden it was about 1/2 cherry tomatoes and 1/2 beefsteak tomatoes.
1 large yellow onion sliced
5 crushed cloves of garlic
Preheat oven to 280 degrees
In a 6 qt dutch oven heat EVOO on med heat till glistening
Add Onion, Garlic, 1 Tsp salt, and 1 tsp black pepper cook until onions start browning .                                  
Remove onion & garlic to a spare bowl
Turn burner up to med-hi
Salt & Pepper pork with remaining S&P
Brown Pork on each side about 3 min just until it releases from pan.                                                                                                                                         
Remove pork to spare plate
Deglaze pan with Sherry
Add in broth & Apple Cider Vinegar
Now we are going to stack our ingredients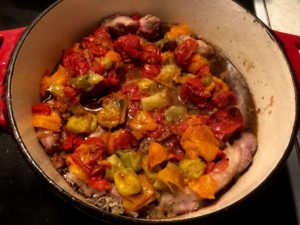 Into the liquid place the  onions and garlic
Place the Pork Chops
Cover with dried Sage leaves
Cover with tomatoes
Place lid on dutch oven and place in stove for 2 hours
Remove pork
On a med lo burner place the dutch oven on it uncovered let simmer and reducing until reduce by 1/2
Add pork in simmer for 10 min
Remove and serve over a starch of your choice.