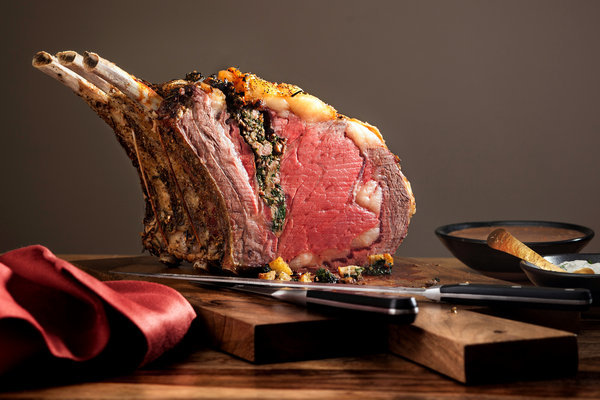 With people stressing that we are already out of turkeys, I need to warn you about another pre-order you should be thinking about. We always receive requests for prime rib/standing rib roasts for Christmas. We've already had someone order 1/2 of a cows total and it isn't even Thanksgiving yet.
To put that in perspective. We have two cows available between now and Christmas. That means 25% of all the prime rib roasts are already spoken for and that was one person. He had a big order but you get the idea.
Prime rib pre-orders are just like turkeys. You can either come in store and place a deposit of $40 for your roast, or you can call the store on Wednesday, talk to Jeanette, and place a deposit via telephone. Until we have a deposit, you do not have an order.
When you do call for your order, you need to have an idea in mind for your size of roast. This would be in number of pounds. For a family, you'll be looking around a 5-6 pound roast usually.
Fo those that don't know, a prime rib is simply the bone in ribeye not cut into steaks so for everyone else who isn't getting a prime rib roast, know that there won't be any ribeye steaks until January's cow returns. This is normal this time of year so it shouldn't be a surprise to everyone.