Traditionally Ninja Cow sells English style thick cut short ribs. These are great for the crock pot or dutch oven. For smaller families I recommend them or shanks instead of roasts. They have great flavor  & texture while still being quite a bit cheaper. This is what I usually feed my family  since we are now a party of 3 these days. The bonus is you can be pretty versatile with these and use any leftovers for sandwiches or fajitas.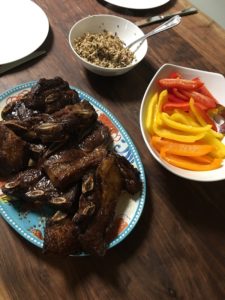 This past spring we began getting requests for a thinner Asian style rib. I talked to Chaudhry's. Unfortunately they couldn't get us down to the 1/4″ that I had desired. The were able to cut them much thinner and horizontal to give me a more versatile product for grilling and stir frying.  Wait did I just say the word fry? Hmm what could be more delicious than an Asian style sticky rib. Ooo I have that 5 spice from the Drunk Duck.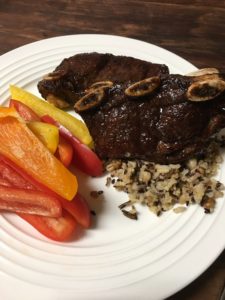 Boys & girls this is where being a Chef becomes 1 part art and another part mad scientist.  Last year I had a 5 spice rib on a food truck. I talked watched and learned now it is time to recreate with this awesome rib here at home. This will be a project where irresponsible children should not be in the kitchen. And one where distractions should be kept to a minimum.  And where I kinda wish I had one of those new fancy air fryers. After I remove the rib from the frying oil I will immediately be dredging in brown sugar. The heat will caramelize the sugar and spice to the rib. To add a bit of crisp to that we will hit it with the broiler.  MMMMM, let's go.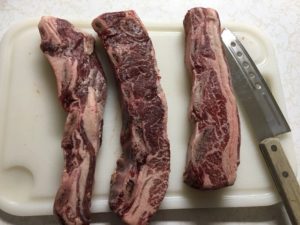 The cost on ribs in the  Ninja Cow Store is $7.99 a lb.  That is roughly $1.75-$3 a lb cheaper than our roasts. And since we now carry the 2 different cuts they are quite versatile.  Let me also give an honorable mention to the Beef Osso Bucco cut at $8.49 lb. That is the perfect amount for 1-2 people, it is a perfect crock pot cut as well.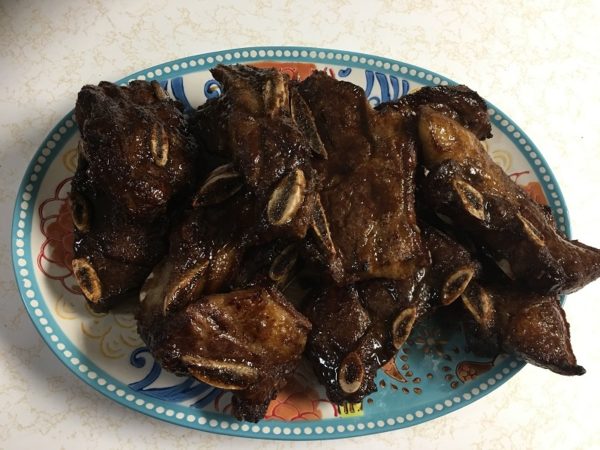 | | |
| --- | --- |
| | |
In a heavy deep pan heat 1.5 inches of vegetable oil over medium heat the desired temp is 350 degrees

While oil is heating combine sugar and spices in a casserole dish

Dry off ribs if there is any moisture the will pop. If you are wearing short sleeves please go change to long sleeves.

Preheat Broiler to 500 degrees

Place ribs in oil fry for 5-7 minutes I cooked these in batches of 4. Make sure to leave plenty of room for the ribs to not touch.

Place on aluminum foil lined sheet pan

Place under broiler for 1 minute on each side

Cool for 5 minutes and serve
If you are using the thick style ribs  cut to have 1 bone per piece.
While cooking these ribs my doggie sat at my feet and flat out begged for what I was cooking for the first time in his life.