Fall recipes are looming in my brain. I see blankets of leaves with my family bouncing through them as they come in to have a mug of warm butternut squash bisque.  Then I open my eyes and realize that is not my family just the one that resides in my head.  Dinner party season is just about to start up though. Short easy recipes to take an appetizers are a must.  Bacon Wrapped Jalapenos are a delicious apps to make ahead of time, throw in the oven as you're getting dressed then retain enough heat to stay warm on the car ride to a friends house.  This recipe is in honor of Mark & Jeanette who have used about 90% of the Jalapenos I have grown this year.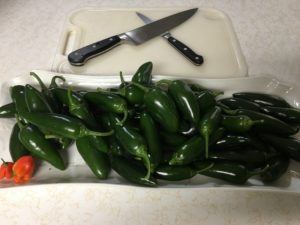 Earlier this spring Jen from Chickadee Farm began visiting the Ninja Cow Farm Store. One day she showed up with pepper plants for me explaining she had more than she could plant. She asked if I would want them. "Sure" I said knowing full well my family does not eat spicy food. We are a thorough blend of Scotch, Irish & Norwegian, are any of those cultures known for their spicy foods? Nope.  I planted the peppers and poof they have produced like no plant ever before.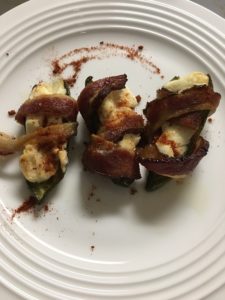 This spring  we also began having Weeping Radish Butchery pick up our pork and beef to make Niche Market meats with. Their sugar free bacon recipe mixed with our pork is AH-Mazing!  In the store it sells for $12.50lb. W won't be using too much int he recipe today. There will be plenty left over for a BLT for a midnight snack.  Sugar Free Bacon Wrapped around a Jalapeno filled with cream cheese and a dash of Smoked Paprika creates a fabulous appetizer.
Always ask what is growing in the garden. I'm always glad to share the bounty.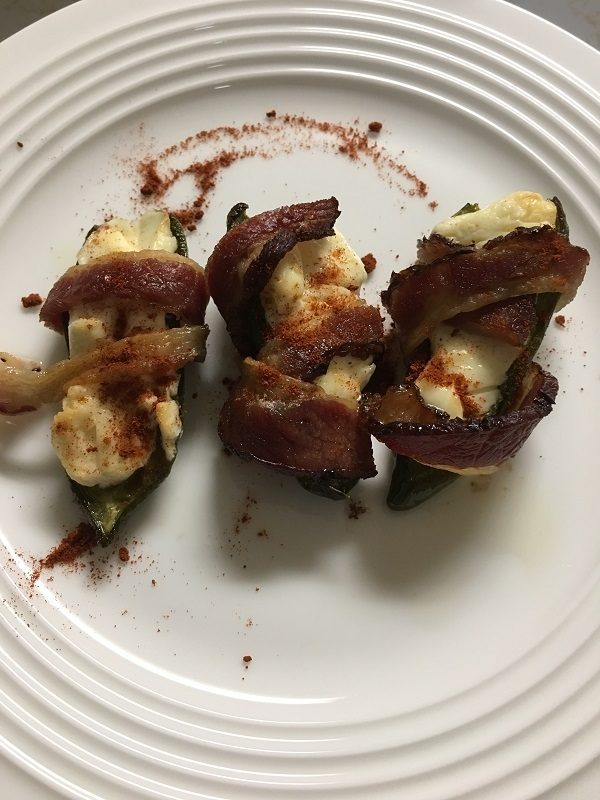 | | |
| --- | --- |
| | |
Pre Heat oven to 425 F, Place gloves on hands. (Your eyes mouth and nose will thank you later)

Slice jalepenos in half vertically.

Using a teaspoon scoop all of the membranes and seeds out.

Fill each jalapeno with 1-2 tsp of cream cheese

Wrap Sugar Free Bacon around jalepeno

The last 2 minutes turn the oven to broil for extra crispy bacon. Watch the broiler closely to avoid a quick burn to inedible. *You have been warned

Remove, Sprinkle with Smoked Paprika & Serve
Want to elevate this dish even further  on top place a bit of Two Chicks Farm Mild Pepper Jelly. This will cause that savory sweet umami that we all search for in the appetizer line.