Folks you have blown through our Chicken Freezer this winter. Poor Christy at Brittany Ridge Farms cannot keep up. Normally winter is a downtime for chicken. This year you fine folks said, "NOPE!".
Since this burst of chicken flying off the shelves has hit I have been bombarded with emails and texts. "Why is my chicken tough? Chicken from XYZ store is never tough" At first I was perplexed, then I asked how it was cooked. Now this is where I giggle.  350 is not the magic oven on the  oven folks. It seems that is the go to temperature that most folks set their oven at.  Please stop cooking everything at 350.
You see chicken at XYZ regular ol' grocery store is pre-brined. It is pumped full of a saline solution. This tenderizes the muscles & weighs more per pound for the grocer. This also allows for the water to cook the chicken at a lower temperature. Having less moisture in it to begin with our chicken requires a higher cooking temperature.  Brittany Ridge pasture raises their birds allowing them  free reign over what they eat. They are given access to a milled grain with 21 % protein from Statesville. Keep it local folks.
Beef & Pork Roasts= 280 F, roughly 1 hour per pound.
Chicken skin on bone in should be cooked at 425F unless it is whole. Then we have some fun. With a whole chicken  you want to start off with a hot oven at 475F then after 20 minutes drop down to 425F for the remaining time.  How long though is up to the state of the chicken. Completely defrosted 50-60 minutes. You want the thickest part of the chicken to reach 165F. This is not negotiable.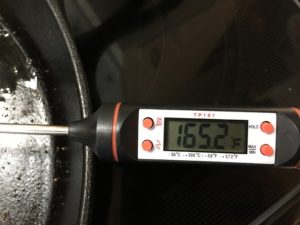 There is trick though to help insure super crispy skin, dry off the chicken thoroughly first with paper towels. You do not need oil or any thing else.
For crispy all the way around I suggest. lining a  sheet pan with tinfoil then place a cooling rack in it.
Below are prices and cooking times, remember they vary on size and temperature when going in.
For the price I recommend Quarters-at $5 per lb= 40-45 min ,2 per pack. Each person receives 1 as a serving,
Drumsticks- at $6.50 per lb = 30-35 minutes 4 per pack typically.
Thighs-at $6.50 per lb ( they are currently out of stock),= 30-35 min. 3-4 per pack. Each person receives 2 as a serving.
Split Breast-at $10 per lb 40-50 min, 2 per pack. Each person receives 1 as a serving,
Boneless skinless breast at $12 per lb, 2 per pack 1 per person. Cook at 375 for 20-25 minutes until 165F. Each person receives 1 as a serving.
Preheat oven to 475, Place chicken in shallow cooking vessel that is oven safe for this temperature.

Dry chicken off using paper towels.

Season liberally with Salt & Pepper.

Place in 475F degree oven for 20 minutes.

Leaving oven door shut, drop oven temperature to 425F. Cook for 50-60 minutes until the thickest part of the meat reaches 165F.

Remove from oven rest meat 7-10 minutes slice and serve.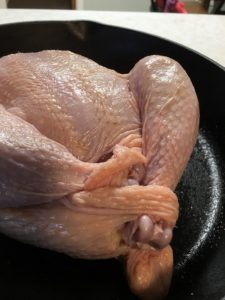 For the cute little self tying thing I did with the drum sticks it is simple.  Make a small slice in the skin at the tail of the bird. Slide  each leg through. This does take some trial and error the first few times.