Beef & Broccoli a Chinese restaurant favorite  for take out. Now it is time for you to have this wonderful meal at home.
A few years ago my brother was home from college and he requested that I make Beef & Broccoli for dinner. I went to Pinterest to search as Asian food is not my strong point.  There I found this recipe by Rainy Day Gal (Jenny Miller). Despite its 1 hour marinade time this dish is quick. It is great for a night in which you have a a few minutes to get something together before running out for a practice then coming back and having it ready in 10 minutes.  For those nights I have frozen brown rice stock piled in my freezer. While I prefer everything fresh and homemade it isn't always possible on a working parents time frame.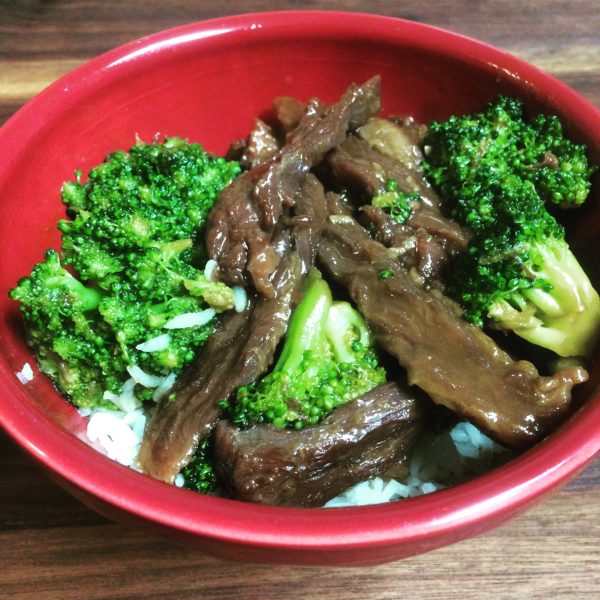 | | |
| --- | --- |
| | |
Whisk together the baking soda, sugar, cornstarch, soy sauce, water, and vegetable oil in a large bowl. Toss the steak with the marinade to coat. Cover and refrigerate at least 1 hour, then proceed below.
In a small bowl, stir together the soy sauce, brown sugar, garlic, flour and sherry until smooth. Set aside.

In a large wok or saute pan, heat 2 tablespoons of the vegetable oil over high heat until shimmering. Add broccoli and saute 3 minutes, stirring often. Transfer broccoli to a plate.

Reduce heat to medium high. Carefully add the remaining tablespoon of oil to the hot pan. Add the marinated meat and half of the sauce mixture and saute for 3-4 minutes, stirring often, until the meat is cooked through and no longer pink. Stir in the broccoli and remaining sauce. Saute 1 minute more. Serve