Is it Fall yet, Y'all? The end of August was cool, as I write September has come thundering in.  I'm ready for soups, stews and bone broth.
Many of our clients know I despise one convenience kitchen appliance. Totally loathe and even though I've been given at least 4 of them I had to go out an buy one today just for this task.  My Mother in Law gave me one 3 Christmases in a row hoping I would keep one around. This item is a crock pot. Now we have some folks that make bone broth on the stove, I have before in the past. However,  free time and I have been struggling since February 24th. 2016.  That is the day I moved to the farm.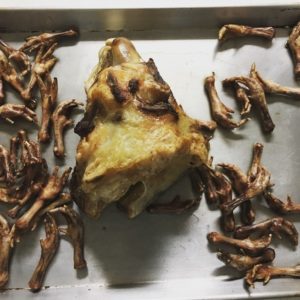 Yes I, Lucy, am a kitchen snob. I get why people use crock pots they greatly help out working parents stay on a budget, Crock pots have a hot dinner the moment you get home. My one complaint is that they don't  keep a good consistent temperature.  Since I'm not putting meat in it only bones I can live with that for the convenience.  Otherwise I'll be taking a pot on and off my cook top multiple times a day the next 36 hours.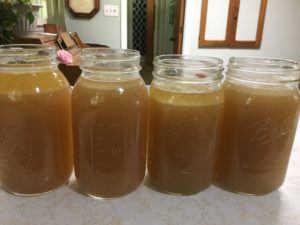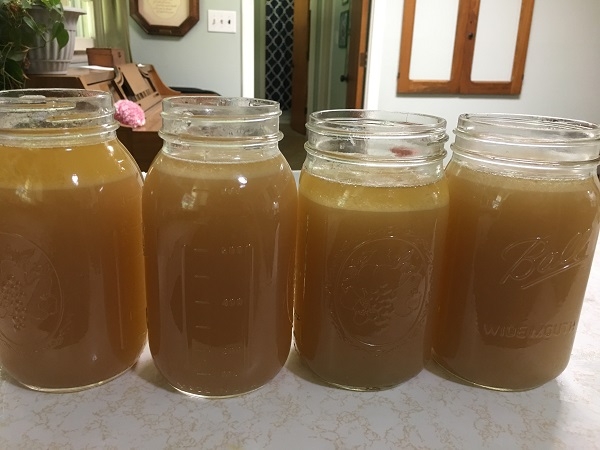 Bone broth takes times, the bones need to break down to give you their sweet collagen and calcium.  A boost to both the breakdown and the  your body's own digestion of calcium. Vinegar helps the body absorb calcium properly, as orange juice helps potassium be absorbed.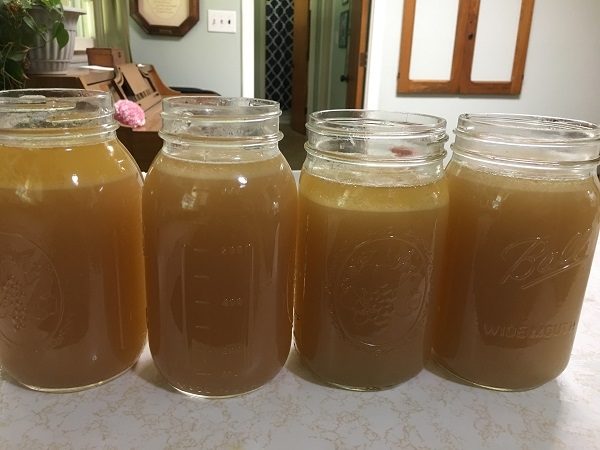 | | |
| --- | --- |
| | |
In a large stock pot cover bones with water bring to a boil, boil for 10 minutes

Remove yuckiness aka foam.

Remove bones and save water

Place bones on cookie sheets. Roast bones on 400 for 1 hour

Place bones back into stock pot cover or crock pot with water add 1/4 cup apple cider vinegar

Simmer for 24-36 hours adding more water when needed. The broth will be done when the bones are crumbly. Add aromatics the last 30 minutes Strain. Leave the fat this holds the collagen that bone broth is prized for.
You'll notice in the pictures I only have 4 quarts. Yup I had a kitchen boo boo and several quarts ended up in floor. Make sure when straining and pouring do so in the kitchen sink. Hot Bone Broth does not feel good to belly skin.