Earlier this week we had a visit from Carolina Mushroom Farm, Shahane brought us fresh Oyster , Baby Bella and Shitake Mushrooms. When he told us the prices I was floored.  Not only are they grown locally over in Willow Springs they also are cheaper than what my family normally buys at Whole Foods. Shahane was a great sport in patiently waiting till I could speak to him. Our store was quite busy at the moment with deliveries and clients in for their shopping.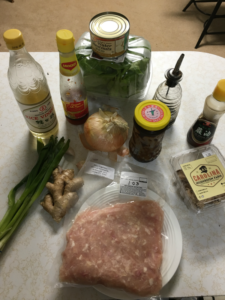 Last week I join SWMBO & Dan on the Low Carb diet.  When Shahane delivered the Shitakes Asian Lettuce wraps popped in my head instantly. Unfortunately its been 3 days and I am just getting a chance to cook them.  My favorite type of lettuce to use for this is butter lettuce however I only have iceberg here at home. Sigh. I will make do.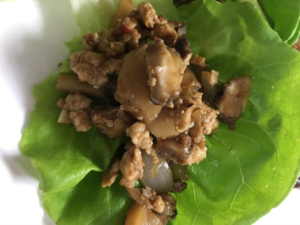 Lets talk lettuce wraps now. The ideal chicken for these is ground chicken coming in at $8.50 lb.  And while I would like to say there will be leftovers there won't be. They just taste too darn good. I totally recommend making 2 batches of this at once. One for dinner and one for lunches. Did I mention they even taste great cold?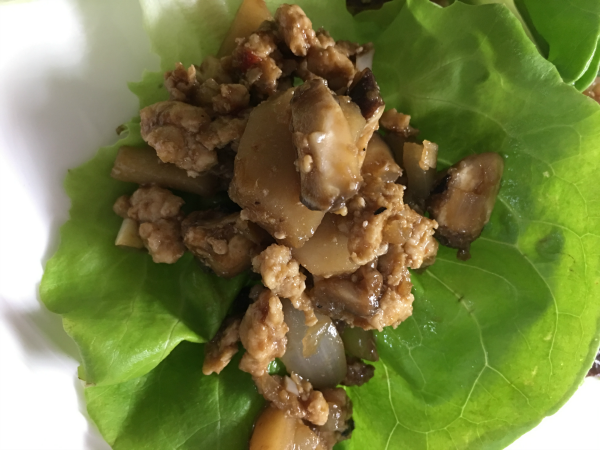 | | |
| --- | --- |
| | |
In a large skillet on med heat add Olive Oil once shimmering add Chicken, mushrooms & onions to brown.

Add mushrooms and garlic cook for 3 minutes.

Mix together soy sauce, hoisin, rice wine vinegar, ginger, sriracha. Add to chicken mixture

Add in water chestnuts cook for 1 minute, Salt & Pepper to taste

Garnish with Green Onions & Serve
Mung Bean Noodles are a fun addition to get kids interested in cooking. I discovered I was out & Rutabaga was quite sad to know we wouldn't have them on top of our lettuce wraps. You heat your oil and drop in a small handful noodles, they instantly puff.  Flip them with them with tongs puff again. The whole process takes literally 5 seconds. Drain on paper towels. While this recipe is not gluten free it is easily made gluten free using tamari instead of soy sauce. The mung bean noodles are gluten free.