I hereby interrupt the replay of recipes from the past few months for something new.  The windstorm that took away our February 70 degree days, got me in the kitchen.  One of my husband's favorite dishes is Shepherd's Pie.  What is the difference between Shepherd's Pie and Cottage Pie? Meat, Shepherd's is made with Lamb while Cottage is made with Beef.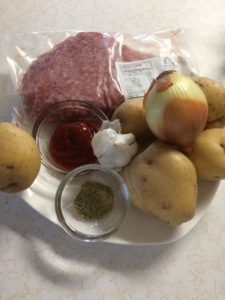 After you decide which type of pie to dig into then it is time to discuss vegetables. The mixture will be topped with mashed potatoes there is no crust however.  For veggies I use onions, mushrooms, celery, carrots & peas. A few folks I know use green beans instead of peas, I prefer the peas.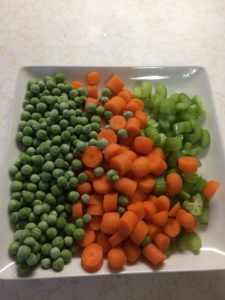 In the NCF store Ground Lamb ( we also have ground mutton) is $10lb, Ground Beef is $9 lb.  If you would like a steakier flavor the choose Ground Chuck for $10.50 lb. With the other ingredients this will still be an under $20 meal yet it will feed 8-10 people. Erin's husband stopped by and grabbed 2 serving. One for right then, I got a text the next morning he had the other for breakfast instead of waiting for lunch.
Calorie Count, It is February as New Years Resolutions are still on the mind I am not making a bottom crust from Mashed Potatoes.  Only the top of this pie with have Potatoes. Traditionally the crust is top and bottom is made from Potatoes.
For today's recipe I'm going to use Ground Lamb, making it a Shepherd's Pie.  My husband would eat Lamb for every meal if allowed… shh I would too.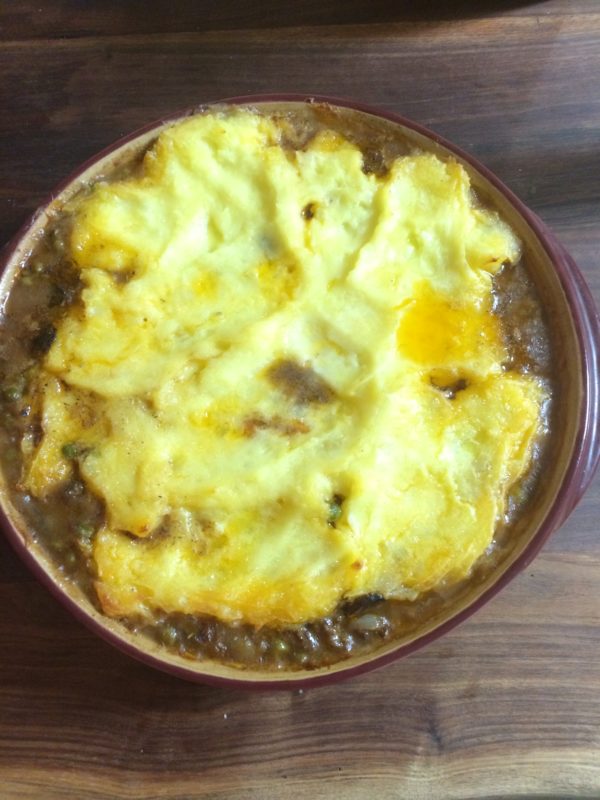 | | |
| --- | --- |
| | |
In a large deep skillet or dutch oven heat EVOO over Medium heat, brown onions & mushrooms with salt and pepper about 7 minutes

Add lamb and garlic to onions & mushroom cook until browned

Stir in flour cooked for 1 minute

Slowly stir in Broth, Wine, Ketchup & Herbs, cook for 2 min or until thickened

Add Carrots, Celery, Peas stir

Place mixture into a deep pie plate cover with Aluminum Foil and cook for 30 minutes

Remove from oven top with Mashed Potatoes cook for 30 minutes
Place in salted water cook on high until boiling

Cook until Potatoes are easily pierced with fork about 10 minutes

mash with butter cream and salt

use as topping for Shepherd's Pie