Need a cucumber recipe to use up a surplus of cucumbers? Or how about a salad recipe that can be whipped up quickly for a group gathering? I grew up with my mom cooking from scratch for every meal and I loved her cucumber salads but as I grew older i discovered I just can't eat a lot sugar anymore so I took her basic recipe and modified to suite my taste.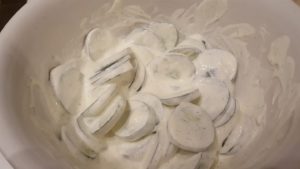 Mix cucumbers, onions an sea salt together in bowl. Cover with plastic wrap and let sit for 30 minutes. While waiting...stir mayo, vinegar, sugar substitute, alarita, pepper in a bowl until well mixed. Place mixture in colander to let drain, approximately 30 min. Transfer to another bowl and top with creamy mixture. Salt to taste and mix well. Cover mixture with wrap and let sit for 2 hours or just start eating like I do.
I am not a fan of the traditional waxed cucumbers unless I remove all the seeds and by that point a great deal of the cucumber is gone. So I always prefer the english ones. Fourth of july is coming up so make a batch and watch it disappear.