I have embraced the crock pot. Many of you have spoken and the crock pot is the best way for dinner to make it to the table every night. Not eating out is the goal, right? It certainly is more me. As of today, in the past 5 nights we have had to eat dinner out 4 nights. My stomach is not pleased.  Vowing to not have this happen again I pulled out my old friend Renee's Crock Pot Italian Chicken.
Shredding the chicken is easy. Place the breast only in you mixer with the paddle attachment once cooked. Turn on low. This will shred your chicken.  Once shredded add your liquids back to the meat. Do not walk away as your mixer works. That is a quick way to end up with powdered chicken.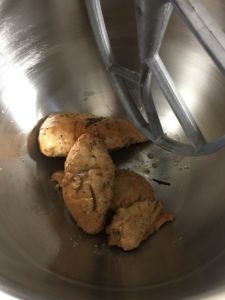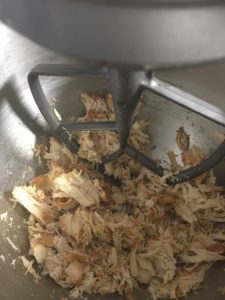 To serve alongside this I typically throw in peas or broccoli at the end of the cooking process. Green Beans or just about any other veggie other than lettuce would work well. Cabbage would probably be a great way to mix it up. I think I'll need to try that soon. We traditionally serve this over rice or pasta.
Christy over at Brittany Ridge grows the best tasting Chicken on the market in my humble opinion. Her birds get plenty of grass and a great omnivore diet from her free range methods. The one thing I notice when I open a package of her meat is there is no smell. Grocery store chicken has always smelled awful to me.  Smells tend to tell the quality in my book.  The other clue. The fat color, yellow is the golden key in pastured meats and Christy's birds have it.  When I used to buy organic chicken in bulk I noticed the fat went from yellow to then gray.   Fat should not be gray, eww just NO!
In the NCF store Boneless Skinless Chicken Breast runs $12 per lb. A whole Cut Up Chicken is $6.50 per lb and a Whole Chicken is $4.50 per lb. My recommendation is to buy the Whole and just double this recipe.  Then you will get several meals for your hard earned $$.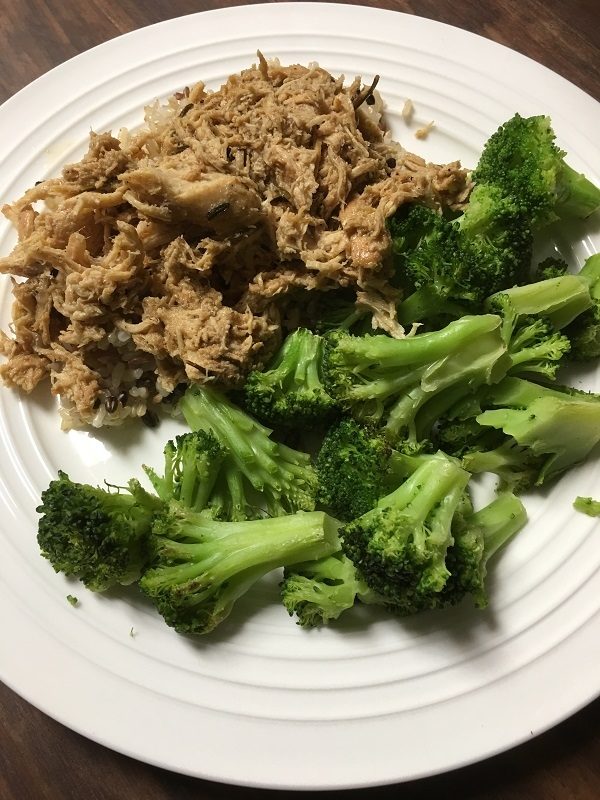 | | |
| --- | --- |
| | |
Combine all ingredients in Crock Pot Place on High for 4 Hours until Tender
Not gonna lie I put my chicken in the crockpot for 7 hours on low as I put it in FROZEN. No I fail at planning ahead but I'm trying to get there.