We always sell out of Ribeye,  NY strip, filet Mignon steaks quickly. What we have a healthy supply of are the flank steaks. Maybe it's because there is uncertainty on how to cook it or patrons didn't realize how good they can be. Either way, my plan is to covert more followers to this tasty choice cut.  I plan to share a few of my favorite recipes using flank steaks.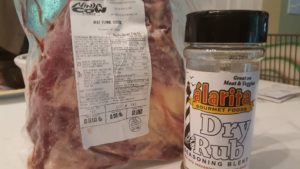 This was a .85 lb of flank steak and it fed 4 of us comfortably with a little leftover. The recipe is for 4-6 people and I decided to half it since 2 lbs of steak is a huge amount for us.
For the creamy Chimichurri Sauce
| | |
| --- | --- |
| For the creamy Chimichurri Sauce | |
Allow steaks to come to room temperature and then season with the smoked salt and garlic powder. Drizzle steaks with the oil so they are coated.Can either grill steaks at med/high heat for 5 min. per side or until desired internal temp. I actually use my cast iron skillet a great deal so for me it was high heat with melted lard and roughly 5 minutes per side.In a blender or ninja, combine all sauce ingredients and blend until smooth. If too thick can add extra oil or lime juice.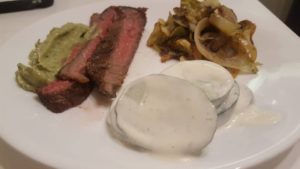 Our sides tonight were fried cabbage/onions in bacon grease and alarita dry rub creamy cucumber salad (I will share this recipe another day for a quick side to a meal). This was a  meal didn't take long to prepare and tasted like summer.  The steak can be placed in sink with cool water to defrost in time for an evening meal.
There is enough steak left over for a salad tomorrow and I plan to thin the sauce for the dressing. Too bad my husband is traveling this week as he will miss out on a great lunch for work …lol