A few years ago one of those boxed dinner companies came out with seasoning packets. You were just supposed to throw it in your meat and pasta or rice and poof dinner is served.  Upon looking at the ingredient list I was mortified. And then I looked at the nutrition. Whew! Who knew so much sodium could be packed into a couple of tablespoons.
A few months back the NCF Store started carrying flavored Goat Cheeses from Celebrity Goat Dairy. Since then I have been playing around with them and having a blast. The little tubs sell for $5 each and are loaded full of flavor.  The flavors are Chocolate(hello adult s'mores anyone), mango, chipotle, garbo (herb), dillamon (dill with lemon pepper), chevre (plain), jalapeno, and curry.  Commonly I add goat cheese to dishes, it packs a punch of flavor  while low in fat.
The next few meals I present are easy dinner on the run. Currently these 4 weeks are packed to the gills with activity. And if I ever schedule this much at once again… well lets just hope I don't. The amount of time I have doesn't allow for dinner out and fast food is being phased out of our house unless we are traveling.
Here we go, the NCF Chicken Skinless Boneless Chicken Breast is $11 lb, Garbo Goat Cheese $5, Peas-$1.69 (broccolli or carrots can be substituted), and Pasta $1.89 16 oz box.  Tell me can you feed a family of 4 at a fast food place for under $20? I can't and keep everyone happy but I can with this and it's done in 15 minutes.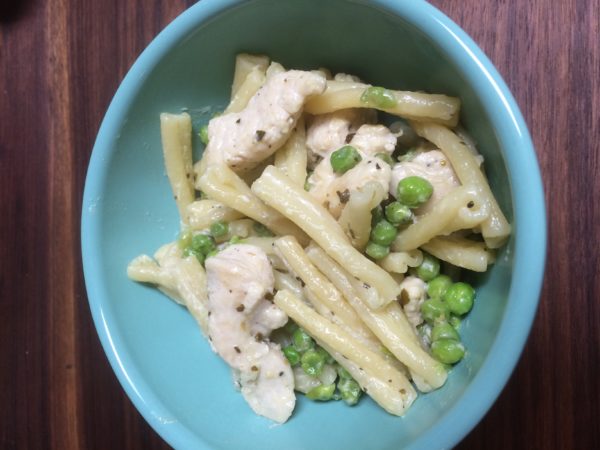 | | |
| --- | --- |
| | |
Prepare Pasta to package instructions. Reserve 1/4 of pasta water

Season Chicken with Salt and Pepper

Over Med-Hi heat Extra Virgin Olive Oil.

Once heated brown seasoned chicken

Add Pasta water & Peas cook for 2 minutes

Add Pasta and Garbo Goat Cheese mix thoroughly