Versatile glazes make my life turn round. While some prefer their meat & fish plain, including me at times, I love a glaze. During all of our food tastings this spring Dan & SWMBO came across Falling Bark Farm Hickory Syrup. I for one am thrilled they did, it goes great on Corn Bread, Salmon, & makes a great Old Fashioned. Now it is time to try it on meat, specifically pork.
At the same tasting SWMBO fell in love with Lusty Monk Mustard.  Lusty Monk has a spicy bite to it. It is great on Sandwiches.  Everyone here on the farm especially SWMBO recommend using it on our Bratwurst with Two Chicks Farm Sauerkraut.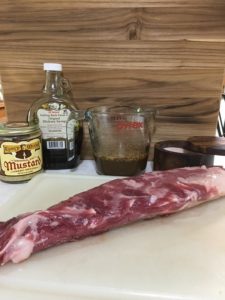 This week marks my husband and I's 20th Wedding Anniversary. Rutabaga was invited to unexpectedly to a friends house for an tweenage girl sleepover. That means Mom & Dad can eat like adults and Momma can play around with new ideas.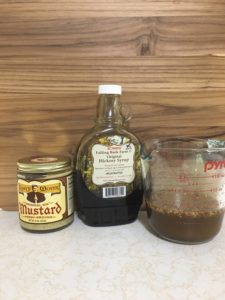 Pork Tenderloin sells for $13 lb. It is truly worth it for a special occasion.  The Falling Bark Hickory Syrup is $17 a bottle.  Lusty Monk Mustard sells for $6.95 a jar.  This is a special meal, and I know investing in these two ingredients will pay off for meals to come.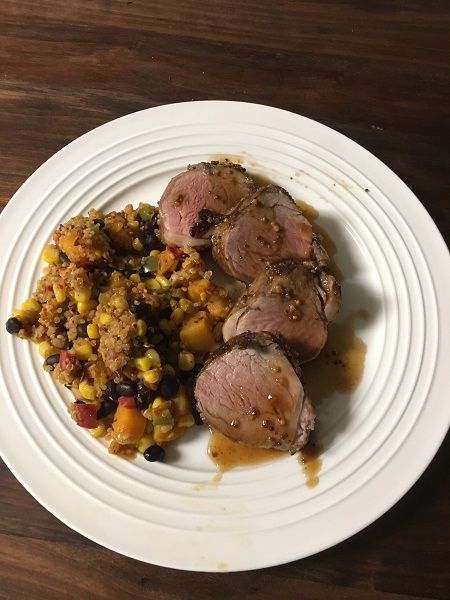 | | |
| --- | --- |
| | |
Remove meat from fridge 1 hour prior to cooking.

Preheat oven to 450 F degrees .

Heat a cast iron ( or heavy bottomed pan) on medium heat until smoking.

Season pork with Salt & Pepper

Place in Cast Iron skillet turn sides every 2 minutes

Once seared on all sides remove from pan and place on a sheet pan lined with foil

Combine remaining ingredients pour over tenderloin, make sure all sides are coated.

Place in oven for 10-15 minutes depending on desired doneness level and size of tenderloin. I prefer mine medium.

Turn on broiler the broiler for an additional 2 minutes to set the glaze

Remove from oven rest for 7 minutes, Slice 1/4" thick & serve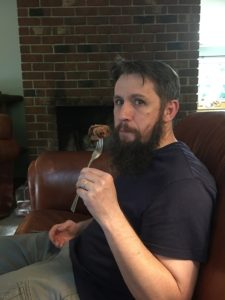 Drizzle a bit of the glaze over the meat for added flavor.