We've had requests for our pork chop recipe from multiple people so I'm finally sitting down and typing it up. We have some recipe goodness coming from a new author on our website, but more about that later. For now, let's talk about our semi-famous recipe.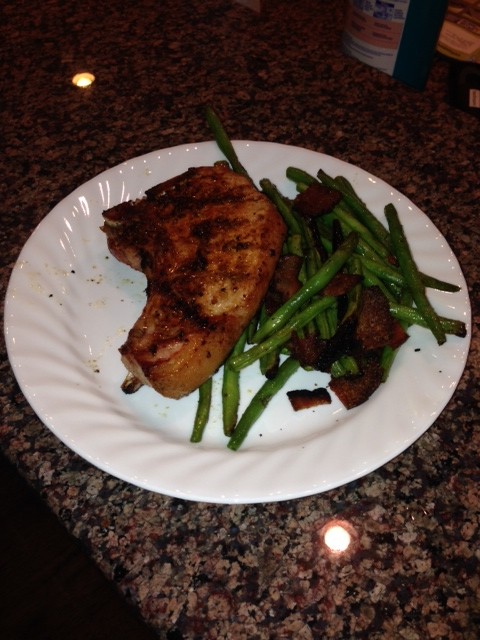 | | |
| --- | --- |
| | |
Set pork chops out on the counter in time to come to room temperature. Salt and pepper both sides and let the chops come up to room temperature.

While the chops are warming up, place a cast iron pan on your hottest burner and turn it on full high. Also at the same time turn on the oven to bake at its hottest temperature.

Unplug the smoke detector. If you don't make enough smoke to set off the smoke detector, you aren't doing it correctly.

Let the pan get to temperature, which will mean it has stopped smoking and has turned grey. Yes, you'll cook off the seasoning. It's worth it.

Once everything is blistering hot, place the pork chops on the pan and DON'T MOVE THEM. They will hiss and smoke. This is the part where you realize you should have listened to me and unplugged the smoke detector. Now go open the windows and try to get the smoke detector to stop wailing. Wait 45 seconds then flip the chops over to the uncooked side.

After another 45 seconds, place the pan with the chops in the oven and cook the chops for 3 to 3.5 minutes depending on how cooked you like your chops. After the 3 or 3.5 minutes, pull the pan and flip the chops one last time. Then put them back in for another 3 or 3.5 minutes.

At the end of the time, pull the pan and remove the chops to a pan to rest. Cover the chops with aluminum foil and put the pan back on the cooktop on medium-low.

When the pan is hot but not burning, deglaze the pan with red wine. (You are drinking red wine, right? It's required for cooking at our farm.)

Scrape all the good bits until the pan is clean then add balsamic vinegar, not quite as much in volume as you did red wine. Lastly, add the sugar to the pan and reduce over heat until it's about 1/2 the volume.

By the time the reduction is ready, the pork chops have rested the correct amount of time. Plate the chops, then pour the reduction over the chops and serve.

Wash off your pan while it's still warm and dry it off so it doesn't rust.

For breakfast, make sure you cook some bacon or sausage and the seasoning will magically reappear.