I can see the Eww's coming across the screen already. Hold tight though and take a trip further into the Culinary World.  Recently we've had several international clients request Chicken Hearts.  After consideration and a few rounds of cooking them. I declare they are tasty must have treats. Easy to make and man are they good, like I now crave them type of good.  The taste and flavor is as if a steak and a chicken thigh mixed together.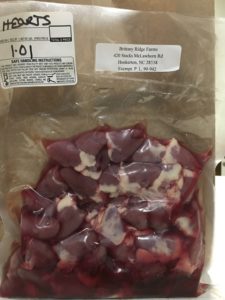 This past March my husband had to travel to Brazil on business. When he returned he raved about the food and being forced to try new things. Now the man is not the most adventurous eater due to some food allergies (okra and shellfish). In fact we were a bit worried about the language barrier and proceeded to take a crash course in Portuguese so he could safely eat. To hear he was trying new food excited me so I asked what his favorites were to spice up our weekly menu.  When he said chicken hearts I about dropped my jaw on the floor.  In fact he couldn't wait to share them with the family. I'll cook most anything he requests.  Let's go!
Chicken Hearts are provided by our wonderful partner Christy over at Brittany Ridge Farms located in Hookerton, NC. We charge $4 lb for these tasty morsels.  These are quite simple to cook quickly and would be great served with salad or as the meat component to a meal. Have a party and offer them as a daredevil bite. Drop by today from 2-6 to get your own.
Have I scared you off yet? Just remember in this whole Farm to Fork world we need to eat all parts of the animal not just a few.  Try them you won't regret it.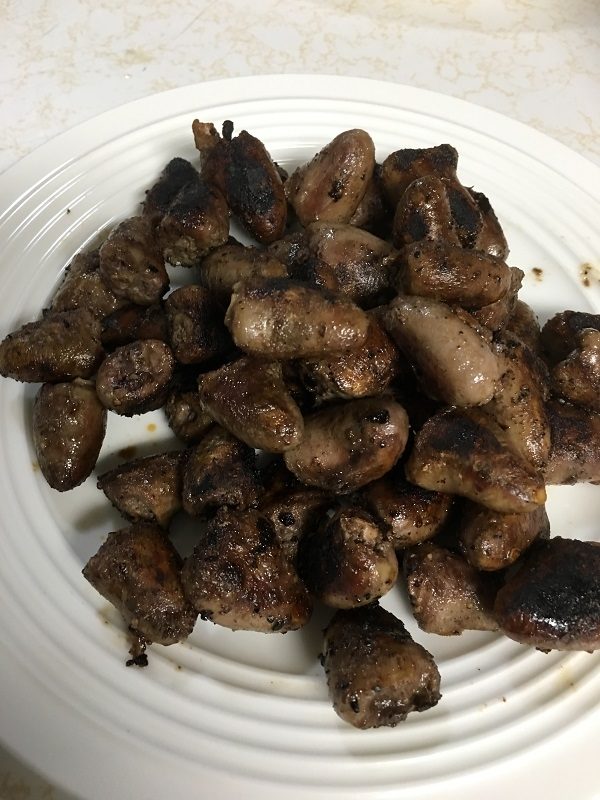 | | |
| --- | --- |
| | |
Bring chicken hearts to room temp about 30 minutes

Preheat Cast Iron Skillet

Remove any connective tissues, it pulls off easily.

Salt & Pepper, season with additional flavors at this time.

Place in skillet, cook for 4 minutes

Turn and cook for 4 minutes further

Remove from pan let sit for 5 minutes then serve