Rabbit love it hate it, it is a tremendous renewable food source. When we talk about healthy meats this is the one that gives you bang for the buck. There is little fat in rabbit meat and the cholesterol is quite low.
According to Off Grid News "Rabbit has the lowest cholesterol value of any meat product. Compared to the next two lowest, chicken and pork (both with a value of 230 mg per serving), rabbit has a mere 164 mg of cholesterol. Rabbit is the lowest calorie meat per serving at 795 calories per pound vs 810 for chicken, 840 for veal, 1190 for turkey, and 1440 for beef. Pork weighs in at a whopping 2050 calories per pound. Rabbit meat is the HIGHEST in protein compared to chicken, fish, lamb, pork and even beef! Rabbit meat is highly digestible and recommended by the USDA for children and the elderly.The USDA also proclaims rabbit meat "the most nutritious meat known to man.""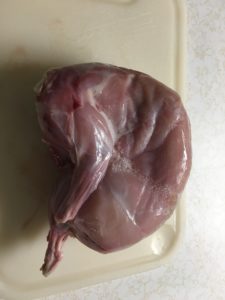 After an unfortunate childhood rabbit incident I refused to eat rabbit.  At that point in time I got mad at myself and made my husband take me  out for rabbit for my 35th  birthday.  Since then I have extremely slowly begun to work with it. This past spring I took a rabbit butchering class at Standard Foods here in Raleigh.  I brought home my rabbit pieces and made them for lunch the next day.  We all loved them so yes I'm finally 30 some odd  years later am going to regularly make rabbit for dinner.
Tonight's recipe is for beginners. Something to lesson the blow to the kids that you have a meat source. It won't be recognizable, I usually find that the best way to start. and with a long slow cooking aromas they won't be able to resist either.
Bogs are simple, you boil a rabbit or chicken in salted water for 2 hours. Next up you de-bone it(save the water) add rice and cook down until the rice is soft. The rice will take on a new texture making this dish more of a stew.  There will be left overs, freeze them and save for another rainy cold night when you won't have much time on hand.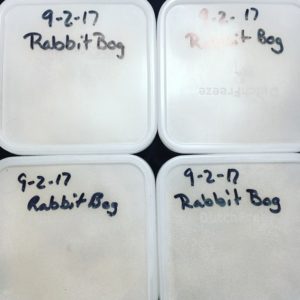 Remove organs from rabbit.

Fill 6 quart Stock pot with water, Add Rabbit & salt bring to a boil over med/hi heat for 2 hours

As the rabbit boils skim the foam off the top. You will thank me later for this.

After 2 hours remove from water. Strain water in a safe place, wash stock pot, add saved water, De-bone rabbit add back to water add rice, Cook for 45 minutes.

Remove from heat and serve.
Additional seasonings,  Bogs are pretty bland other than using salt and pepper. In my bog here at home I typically add 1/4 apple cider vinegar, 1/2 tsp of cayenne, and a few turns of fresh black pepper to each bowl.
[contact-form][contact-field label="Name" type="name" required="true" /][contact-field label="Email" type="email" required="true" /][contact-field label="Website" type="url" /][contact-field label="Message" type="textarea" /][/contact-form]