Rabbit is becoming more of a mainstay among the American diet. I have started seeing several friends posting that they are having rabbit for dinner. When my family dines out we are seeing it on the menu more often. Why? Rabbit is a great hardy animal to raise for meat. The best part is it's the healthiest meat & most environmentally friendly meat you can buy.  We just have to overcome the idea of what is in your head.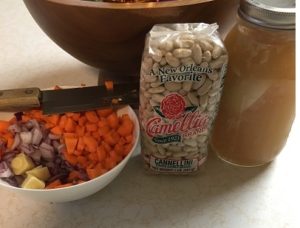 Cassoulet comes to use from France named for its cooking vessel.  You can use any meat to make this versatile dish. Duck, Rabbit, Chicken , Beef, & Pork can all be used. (If using red meat switch to Pinot Noir and add 2 Tablespoons of Tomato Paste).  If you need to make it fast use 2 cans of beans and lower the amount of of liquids to 1 cup wine & 1 cup broth. If using chicken then use chicken broth instead of beef.  If I was only only allowed 1 meal it would be Rabbit Cassoulet. The scent of this dish stayed in my house overnight, making me wish I had more of it to eat for breakfast.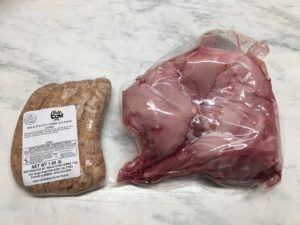 Rabbit runs in the NCF Store for $10.50 per lb. Each rabbit weighs between 2.5 lbs and 3.5 lbs.  If we hadn't had friends over for dinner this easily would have fed our family for several  meals. In this dish we also use NCF Italian Mild Sausage which sells for $10 per lb.  The rabbit and sausage pair perfectly together giving a great flavor profile.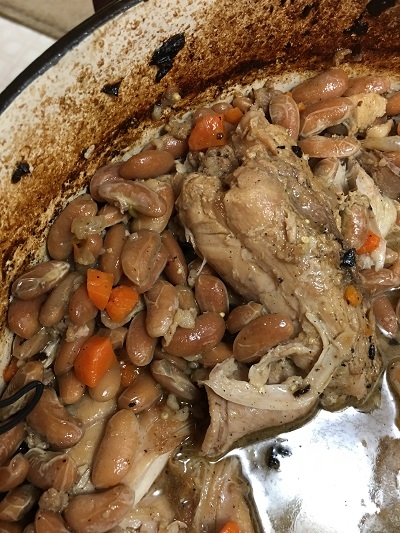 | | |
| --- | --- |
| | |
Preheat Oven to 400 Degree F

Heat 1 tablespoon of Olive Oil over medium heat in a dutch oven. Add sausage, carrots, onion and garlic. Cook until sausage in brown and onions are tender.

Remove Sausage mixture from pan, add remaining Olive Oil to pan

Season the rabbit with Salt and Pepper

Working in batches brown each side of the rabbit

Remove rabbit from Pan add in wine stirring the flavor tidbits off the bottom this is called deglazing and adds amazing flavor depth to your dish.

After Deglazing, add bone broth, thyme, mustard, salt and pepper stir well.

Add in Beans on the bottom, then the Sausage Mixture, then the Rabbit on top.Cook until beans are tender. You may need to add more cooking liquid 1/2 way through depending on how well you beans are soaked & the seal of your lid.

Cook for 2 hours remove check seasoning level and serve.