Weeping Radish products have been a great addition to the Ninja Cow Farm Store and our own personal pantries.  When we first ordered the new sausages we were faced with lots of decisions. One of the new things we brought in is Linguica. Linguica is a firm peppery sausage made with Red Wine that has Portuguese origins.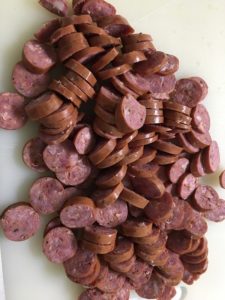 I finally sat down and tried it a few weeks back, Red Beans & Rice came to my mind. During our 7 years in Florida I had many chances to work with folks from other countries. One of my favorite recipes I picked up was out of Puerto Rico from a family friend. In her recipe a homemade sausage was used. It was quite reminiscent of the Linguica we are now carrying in the store. The dried nature of this sausage helps it stand up to the cooking time involved. The flavor is powerful enough to help flavor the dish yet it retains flavors for each bite of the Linguica as well.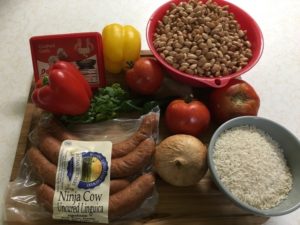 The secret to my Red Beans & Rice is a homemade Sofrito. You take onions, peppers, tomatoes, jalapeno, garlic, & cilantro. You cook them all down together for a short while letting the flavors meld. I must confess though. For the 2nd year in a row my onions didn't grow. And I never got around to planting garlic last year fall. This year though I have grand plans. With my peppers still growing and my cilantro dead I did have to take a trip to the grocery store.  At least my jalapenos & tomatoes are growing well.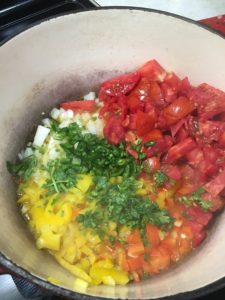 This recipe makes a massive amount, feeding at least 10 people if not more.  And it will be more. I froze several meals worth after dinner.  In the Ninja Cow Farm Store we sell Linguica doe $10.50 lb. With only using 1 lb of sausage in this dish along with the remaining ingredients should bring this dish to under $25.  Not to bad for a one dish meal that feeds a crowd.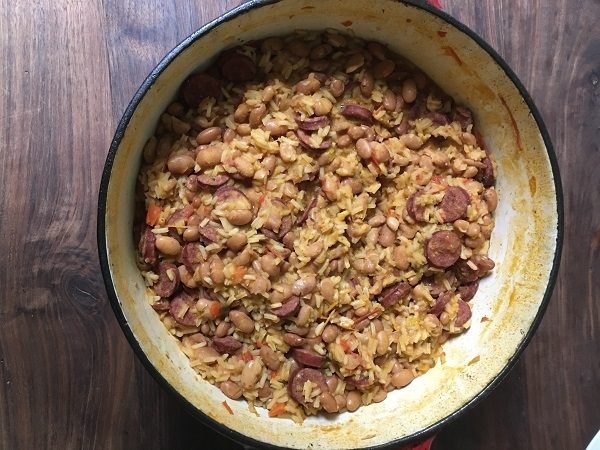 | | |
| --- | --- |
| | |
Rinse Beans, cover with 4 cups water and soak for 8 hours or overnight. Then Drain.

In a large stock pot heat Olive Oil over medium heat. Once hot saute onions, garlic, bell peppers, cilantro, & tomato. Cook for 20 minutes stir frequently.

Add salt,beans, linguica, & beef broth bring to a boil cover reduce heat to low. Cook for 1 hour or till beans are tender. Stir periodically

Add rice, cayenne, & ground pepper. Return lid and cook for 20 minutes stir frequently.
In a hurry and don't have time for making your own Sofrito? You can cheat this step by using a Store bought Sofrito found in the South American isle at your local grocery.